Initial Contact
Ryan Wismar, our lead tape converting expert, calls this the discovery phase. It's where you discover our converting services, and we discover your unique tape project. When you're ready to reach out, we offer a couple convenient ways to contact us:
Research
Once you reach out, for us, the fun begins. Doing diligent research is one of the main aspects that sets us apart as a tape converter. We love what we do, and we've been at it for decades. There are literally tens of thousands of tapes on the market, and our custom capabilities allow us to create new tapes when needed. So, we view this early stage of research like our shot at solving a puzzle.
With a team of knowledgeable experts, we know the important questions to ask that will lead us to solutions quickly. If you ever have a tape question, take full advantage of our Ask an Expert feature. Whether you've done business with us before or not, we jump at the opportunity to research and share what we've learned.
Over the years, our dedication to conducting thorough research has even included building custom machines to get the job done. This machine building capacity gives us unique abilities that other converters may not even know are possible. In fact, we've had customers tell us other converters have claimed their tape project was impossible. But when they worked with us, we did the research, built the machines, and provided the solution the businesses were looking for. 
Considering our devotion to diligent research, we may reach out to you with follow-up questions during this phrase.
In-House Testing
Having completed the early stages of research, we then bring in various potential tapes and conduct in-house testing. We've gained vital relationships with the world's leading tape suppliers. These relationships include Preferred Converter status with 3M, ADvantage status with Avery Dennison, and Gold Converter status with tesa. Regardless of your industry and tape application, we can bring in the tapes needed.
Thanks to these relationships, we have quick access to samples of the likeliest tapes. With these tape samples, we start in-house testing for quality and to see if it could work for your application.
Free Samples for Approval
After we've found a sample passing our in-house testing, we send a free sample to you for testing on your end. If it's not exactly what you want, then we can find other options to test and send your way for approval.
Quote Estimate 
When a sample receives your approval, we quickly put together the quote estimate for you. As we've covered in other blog posts, quotes can become causes for concern if you've worked with unreliable converters in the past. Some companies tack on extra fees unnecessarily or inflate tooling costs to try to take advantage of you. 
At Walker Tape Converting, one of our core values is honesty. This is reflected in both the fair pricing we quote and how we talk to you about the quote itself. We've been in this business long enough to know that we really only want your business if we can actually help you. We only succeed if you do too, which is as it should be.
Guaranteed Trial Order 
After finding the quote estimate satisfactory, the next step is to place a purchase order (PO). This step can cause undue anxiety about committing financially to a first batch of products that require further tinkering. 
With your business in mind, we offer a guaranteed trial order (GTO) with your initial PO. That way, you can look forward to when your first order comes in, instead of stressing over it. Our GTO covers 100% of your costs if something isn't right, and the reasoning is simple. If the product doesn't work like we agreed it would, then it shouldn't cost you a dime.
Lead Times Established
Along with the PO, we can also establish fast, production-friendly lead times. This is in part due to our connections with tape supplies, but it's mainly thanks to our state-of-the-art capabilities. We've built proprietary machinery with incredible efficiencies, allowing us to finish your orders quickly.
Purchase Order Completed
As we fill out that initial order and establish lead times, you can expect the job to be done precisely like we agreed upon. We have a multi-stage quality control setup to ensure the tape solution comes out exactly as you need it. We also keep in communication so you can know where we are in the process and how things are looking. 
TL;DR
When you seek our tape converting services
We do thorough research 

Quality test in-house

Send you free samples for approval

Provide an honest quote estimate

Give you a 100% covered guaranteed trial order on your first purchase order

Establish fast lead times

And complete your order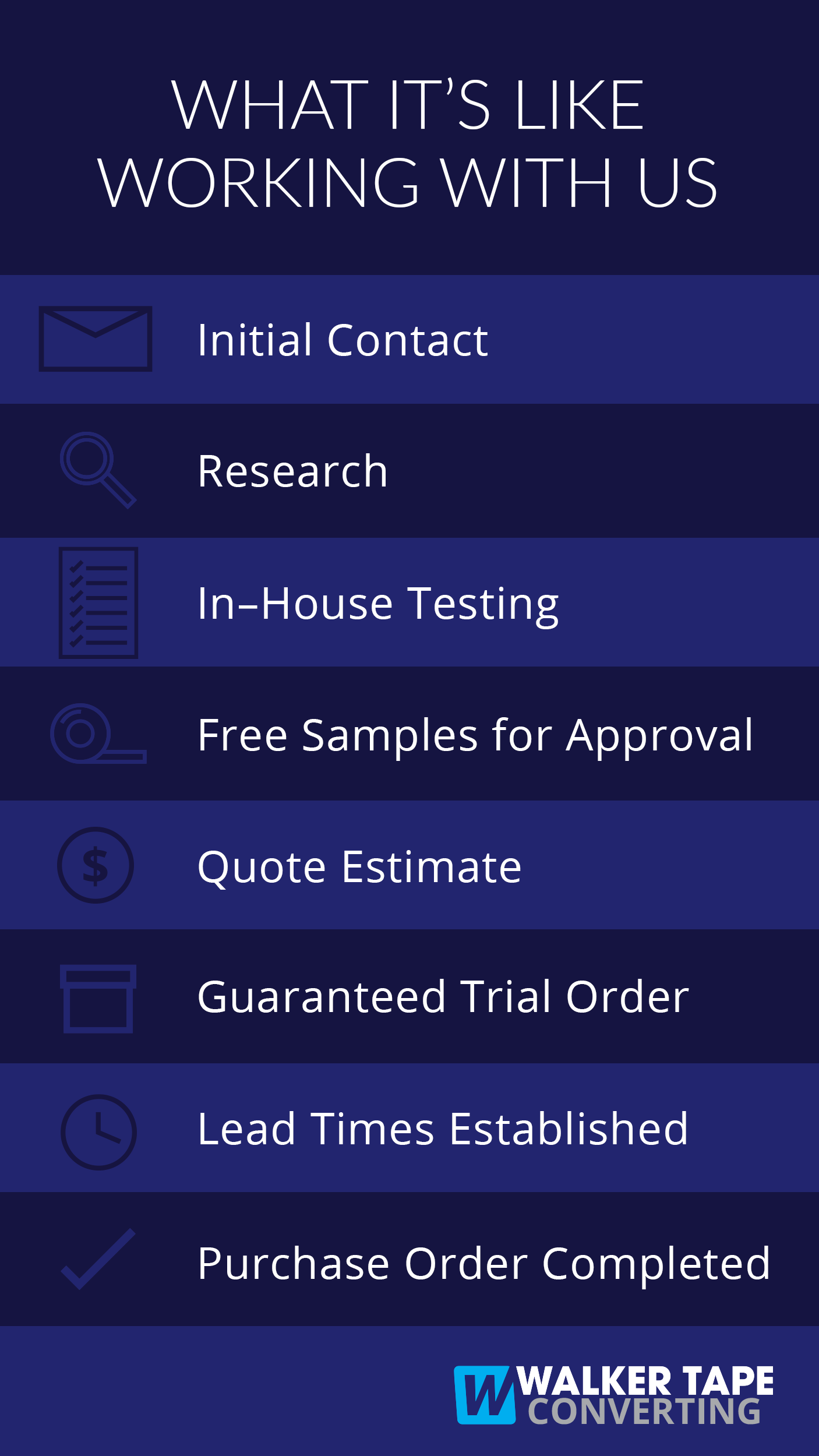 Have a tape project ready for us? See first hand how it is to work with by sending us a free quote request today!