Introducing Our New Adhesive Tape Laminating Machine
We're excited to announce a new laminator that fits right in line with the rest of our converting machines. As is the Walker Tape Converting tradition, we've custom built this machine with a manufacturer based on our years of experience in the tape industry. We also insisted on customizing it to best serve your projects in every way possible.
Before we get too far ahead of ourselves though, let's clear up some converting jargon. What is a laminating machine?
When you hear talk of laminating in the tape world, think layers. Lamination is simply the process of sticking layers together with tape. We process these layers using a laminating machine. 
Now, back to the excitement over what sets our machine apart from other converters! Our new laminator is 100% custom ready to tackle whatever hurdle your application calls for. It's capable of wide web lamination, which simply means we can take on just about any custom widths your application needs. In fact, our new machine can take on jumbo rolls of material up to 3000 pounds with diameters of nearly four feet.
One of the most exciting aspects of our new machine includes its ability to work with foam.
Foam Laminating Services for Tape
We now can laminate various kinds of foam applicable to projects across all industries. With our new laminator, we offer you solutions best served by the following common foam types:
Polyether urethane

Polyester urethane

Dense urethane

Sponge rubber

Silicone sponge
Foam technologies offer a lot of the leading tape solutions available. We can take the foam your application calls for and precisely create the foam tape to do the job. 
Benefits to Your Business
Foams create high-performing tape with their phenomenal abilities to reinforce permanent bonds. With our new machine, we can offer you precise foam applications quickly and efficiently. Even for more complex projects that call for a different adhesive on both sides, we can custom make exactly what you want. 
Other Tape Laminating Perks
Laminating to both sides of a material at once

Featuring a state-of-the-art sensor system

Including a splicing table

Boosting setup speeds
Laminating to both sides at once: Instead of requiring multiple runs, our converter can often complete lamination processes on both sides in one go. This perk makes us able to complete several jobs in half the time.
Featuring an incredible sensor system: This state-of-the-art computerized system maximizes the precision of our work. This leads to more streamlined processes without cutting corners. In the end, it leads to consistent results every time.
Including a splicing table: While this may seem like an odd mention, it's actually incredibly helpful. This table makes it possible to quickly change between rolls without slowing down production.
Boosting setup on our end: Working with the manufacturer, we've aimed to engineer this new machine to be much more intuitive to set up. The easier it is to set up, the less time and money is spent on this step.

Benefits to Your Business
Higher production efficiencies

Lower labor costs

Faster lead times

Wider range of materials to laminate
Production efficiencies: As we've emphasized throughout this blog, our newest addition streamlines our processes. This, of course, turns into better production rates for you as well.
Labor savings: Laminating at Walker Tape Converting just became even easier. This makes it possible for us to complete projects with fewer people and in less time. So, all things considered, this benefit ensures labor costs stay as low as possible.
Lead times: Considering how efficient the new laminator is, it also allows us to offer you even better lead times. We always strive to have your business interests in mind, and we hope our new machine shows that very clearly. We're investing in the best resources to make sure you always receive the best possible service. 
Wider portfolio of materials: Considering how heavy duty our laminator is, we have so many new materials at our disposal to work with. Included among these are the various foams mentioned above. 
The bottom line here is that we've created this new laminator to include all the perks that you enjoy and have come to expect from working with us.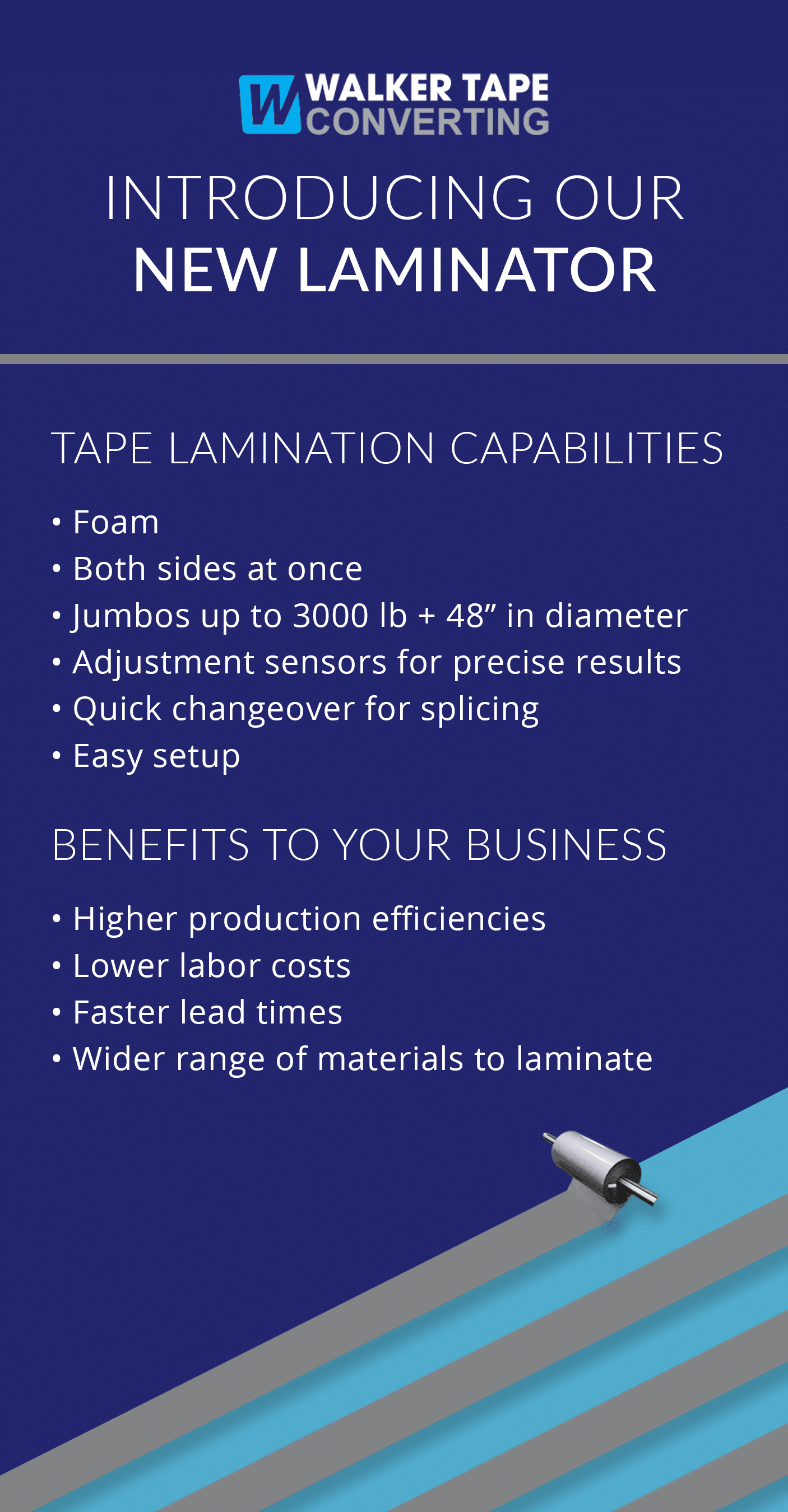 Want to put our new capabilities to the test? Send us a free quote request today and we'll promptly get back to you!