Innovation is poised to transform the medical marketplace
Wearable medical devices like diabetes and heart monitors, home healthcare applications, sports applications, and other remote patient monitoring devices are transforming the traditional medical industry. The global wearable device market hit $21.3 billion in 2021, and is projected to grow by 28% over the next decade. The surge in telehealth is fueling this trend, as technology facilitates patient health being monitored at home rather than in a medical clinic or hospital. Device innovation is on the rise, and tape innovation needs to be right along with it. That's why our expertise matters in the medical device space, now more than ever.
At Walker Tape Converting, we're here to provide the best solutions for this ever-growing market.
Medical Tape Applications
Wearable devices are more prevalent than ever.                      We make them stick.
It's boom time for wearable medical devices. They're used more than ever in this age of telehealth and at-home monitoring. Some devices experiencing a surge in use include:
Diabetes & heart monitors
Sports applications
Pharma delivery devices
Wound care
Transdermal patches
Wearable Device Adhesives
Stick-to-skin tape for wearable devices. That's our focus.
At Walker Tape Converting, we are dedicated to finding the right solution for our clients' medical tape needs. There are no cookie-cutter solutions — too many variables exist. From gentleness on skin, to the climate of the area, to the length of hold, we've got a solution for you.
We're the stick-to-skin medical tape experts
With 30 years of experience in stick-to-skin medical-grade tape, we're the industry leader. With our unique relationships we've built across the industry with 3M and many other tape manufacturers, we have the ability to customize and design solutions to meet your needs. We have the platform to combine these products in ways tailored to your specifications, that few other converters have. And with our custom machinery, we can do it more efficiently than just about anyone else.
At the end of the day, you need stick-to-skin tape that will be breathable, comfortable for the user, and secure enough to keep that device stuck. Our medical-grade tapes have met FDA regulations and guidelines for skin contact and safety. See below for more information about our stick-to-skin solutions.
3M™ 1522 is the ideal tape for stick-to-skin applications with its gentle acrylic adhesive. It's also been used in the medical device production process.
3M™ 1524 features an acrylic adhesive filled with polyester fibers, and is a great choice in medical device applications requiring breathability.
3M™ 9889 is a double-sided medical tape that uses a tackified acrylic adhesive that works well in surgical drape construction and drape-to-skin applications.
Choosing the right tape for a medical device varies based on:
Type of device
User age & skin type
Medical conditions that may affect the skin
Where on the body the device will be located
The climate of where recipient lives
Whether the device should be easily removable or semi-permanent
Length of time the device needs to stay put
Our medical-grade tapes feature:
Easy removal: Our medical grade tape sticks to skin with easy removal.
Non-damaging: Stick-to-skin tape that stays put without leaving residue or damaging skin.
Comfort: In our custom converted medical tape solutions we always emphasize comfort, breathability and skin friendliness.
One converter, vast possibilities
We are proud of the strong relationships we have with many of the biggest tape manufacturers in the world. What it means for our customers is advantages with price, rapid delivery, more choice and the ability to customize in ways other tape converters can't. We're here to genuinely be the best resource for our customers, to strategically help them solve problems and challenges, and save money.
Those relationships with leading tape manufacturers give us access to the strongest and best-performing permanent tapes in the world. We can source solutions for whatever challenging surfaces you're up against, be it high- or low-surface energy, porous, rough, uneven and more.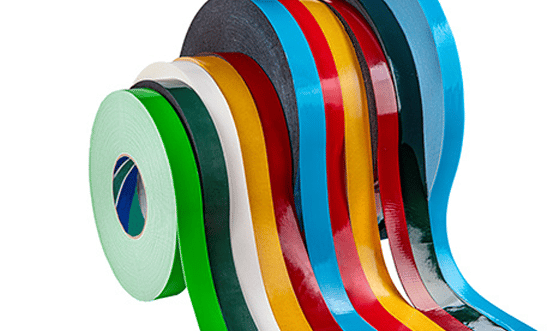 Getting a Quote is fast & easy
Filling out a short form is all it takes to get a fast and free quote. It will take just a few minutes to fill out the form; and typically we're able to get your quote back to you within the same day. Even if you're happy with your current converter, ask us for a free quote. It's hassle free and sure to surprise you. Our better prices and faster lead times make happy customers even happier. We'll even pay for your cost to switch converters (with a minimum contract).