High-Tech Custom Tape Converting: Top-of-the-Line Machines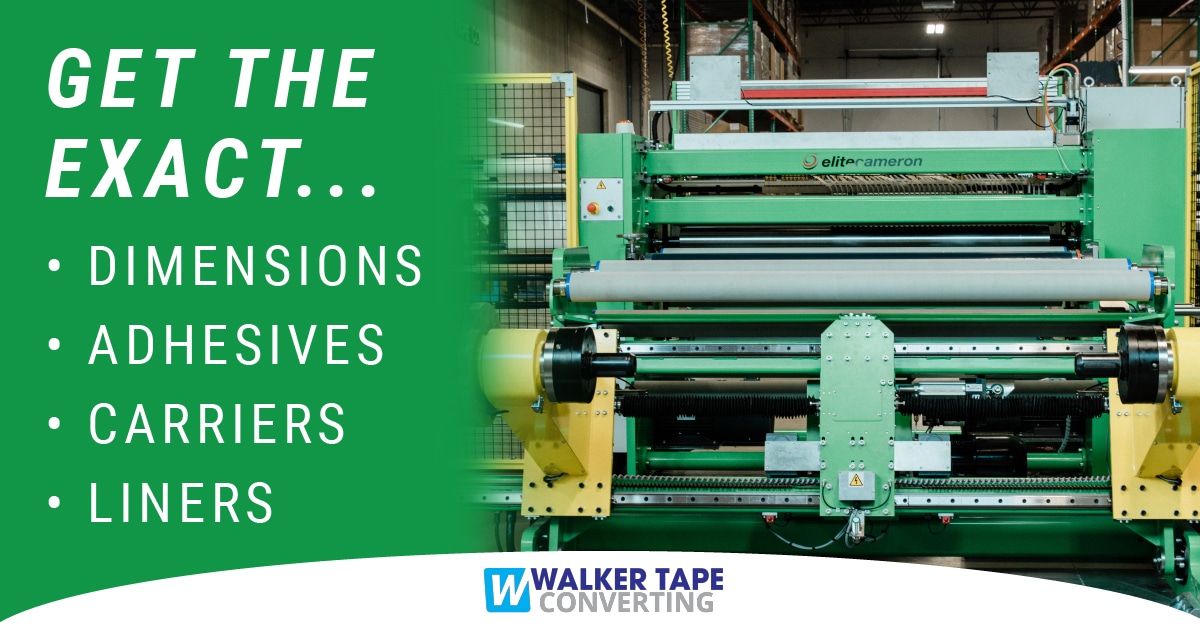 The Perks of Working with Our Top-of-the-Line Converting Machinery
High-Tech Custom Tape Converting

High Speed Capabilities for Faster Lead Times

High Precision Quality to Meet All the Needs of Your Application
High-Tech Custom Tape Converting: Our story is rooted in machinery innovations. Our founder, Brent, invented state-of-the-art machines that to this day convert high quality tape for hair replacement professionals with unrivaled efficiency. As we continue expanding, we've applied our mechanical knowhow time and time again to make the impossible possible for our customers. 
Our background in both adhesive tape converting and building converting machinery sets us apart. When it comes to high-tech custom tape converting, if your project calls for it, we can build all new machinery.  
High Speed Capabilities: Housing top-of-the-line technology, including our proprietary machinery, allows us to convert tape with impressive turnaround times. In fact, our machinery works so efficiently that we can offer fast lead times at the best prices possible. Our devotion to efficiency reflects our investment in your business. We understand that our success begins by supporting your success.
High Precision Quality: There's a shocking amount of detail that goes into what makes a certain tape the right tape for a project. And it takes the best machinery with the right capabilities to provide precisely the adhesive, carrier, liner, and dimensions that work best for your application. All the following machines are built to convert to precise specifications. 
And with precision comes minimal waste. Our machinery uses state-of-the-art technologies that help to minimize waste, which in turn helps maximize your ROI. We've even had customers tell us that our machines cut waste in half by comparison to other converters they've worked with.
Our Lineup of High-Tech Custom Tape Converting Machines
Rotary Die-Cutting and Tabbing Machines
Meet "Blanca"
One of our many rotary die-cutters 

100% Custom ready

Any widths from 1"-10" 

Any lengths from 1"-12" 

Various die-cutting options including kiss-cutting, embossing, tabbing, and perforating liners

Not to be confused with "The Madeline" or "The Beast," our proprietary die-cutters that we've customized for other converting projects
Lamination and Relinering Machines
Meet "Big Blue"
One of our lamination and relinering machines

100% Custom ready

Wide-web lamination up to 60"

Capable of producing 25,000 square yards of product per week

Capable of creating differential tapes so you can laminate the exact adhesive to the precise carrier on the perfect liner that you need for any application
We also have reel machines for narrower lamination and relinering needs. 
Meet "The Wicked"
One of our Cameron large roll slitters 

100% Custom ready

Any widths from 1 1/2"-60", including transfer adhesives and scrim tapes

Capable of crush-cut slitting, efficiently converting large volumes with exceptional quality and precision (for example, a 54" x 540 yd log cut down to 36 rolls at 3" x 270 yd)

Capable of bologna slitting, with laser guidance for enhanced precision (an ideal option for smaller volumes or when needing various widths)

Automatic blade setting with a variance of 15/1000 of an inch
Meet "The Spaghetti"
Our Cevenini master log slitter

100% Custom ready

Capable of lathe slitting any widths from 1/16"-48"
We also have several proprietary razor-slitting machines, hand-built by our team of experts. These razor slitters are innovatively engineered for top efficiency and quality for making custom-sized rolls. They make production from setup to cleanup a quick, smooth process. As a result, they're an integral part of how we can offer such fast lead times and such generous minimum order quantities to our customers.
Whether we're using crush-cut, bologna, or razor slitting machines, all rolls we produce are within ten-thousands of an inch of our customer's desired dimensions. And if your project requires even more precision, we have machines that can doctor or rework rolls to meet those exact specifications.
Custom Liner Printing Machines
Meet "Sweet Caroline"
One of our custom liner printing machines

100% Custom ready
Sheeting Machines
We have a custom-built sheeter capable of sheeting any length you need at any width up to 48 inches. And like all our other high-tech converting machines, our sheeter works efficiently and accurately. Single-sided pressure-sensitive adhesives (PSAs), double-sided PSAs, foam tapes – we can sheet a wide variety of materials.
Our Top-of-the-Line People Running (and Naming) the Machines
Just as vital to our story are the amazing people at Walker Tape Converting. The dedicated minds behind our innovations make us who we are. We wear our passion for high-tech custom tape converting on our sleeve. And when you work with us, we approach your project as if it's been one of our own pet projects all along . This personal investment drives our team and results in the highest quality possible.