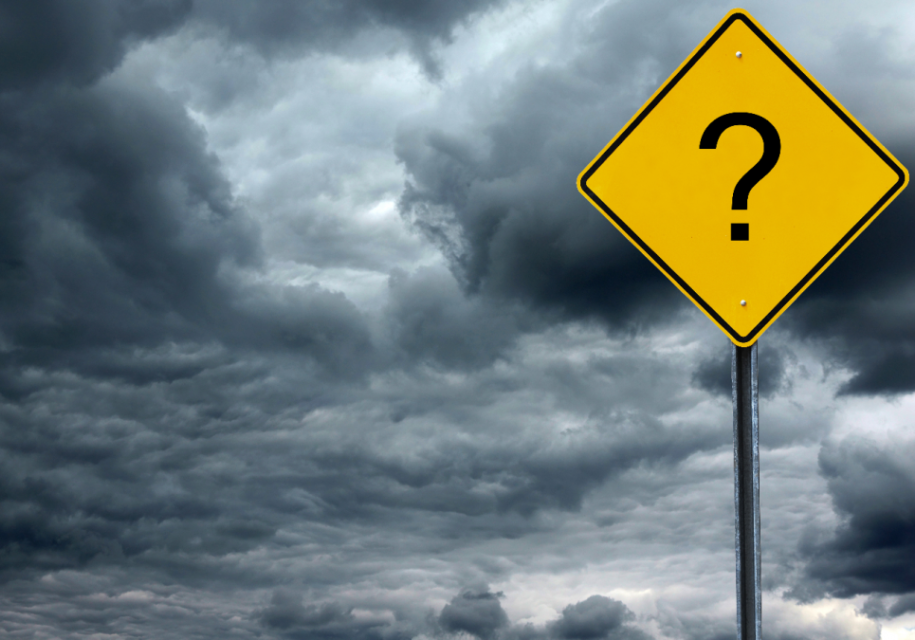 Let's Say Your Adhesive Tape Converter Takes Advantage of You. Would You Know?
Your converter quotes you a certain die cost. How do you know if it's fair or inflated? What about their setup fees? They give you one tape option. Is it based on extensive research or just on what they stock or on their commission incentives? What do lead times say about their commitment to you? Shockingly, if an adhesive tape converter takes advantage of you, it can be tough to spot.
As we help more businesses switch from their previous converters, we've discovered some suspicious practices that worry us. These problems deserve the volume of sirens. Yet too often, at the expense of customers, they go unnoticed. Consider this post our sounding the alarms.
(Disclaimer: While discussing these problems to help you find reliable converters, we hope to avoid implying that you should only trust us. In fact, we end by suggesting other credible converters to choose from.)
Red Flags to Look Out for with an Adhesive Tape Converter
Unfortunately, there exist custom tape converters out there that may cheat you in the following ways.
Skipping Research
Rather than exploring the right tape for your project, they end up offering only what's more convenient for them. This may be a tape that they already have in stock. Or, incentivized by commissions, they may try pushing an expensive tape that you don't need.
Inflating Die Costs
Die costs should fall between $800-$1500. This is true 95% of the time. In rare cases, more complex dies for hole-punch setups or with three or more layers of several working parts can cost more. But for most custom orders, your die should be sub $1500.
One trick unreliable adhesive tape converters use that takes advantage of startup companies is particularly misleading. They offer low per-piece costs which attract unassuming customers only to gouge them on the die. Overcharging like this sends a clear message that a converter sees you as a one-time customer. To be blunt, they assume your business will fail, so they try to take you for as much as they can.
Inflating Setup Fees
A setup fee should never exceed $200. For most projects, they should be closer to $100, if charged at all. For almost all our customers' orders, we wave setup fees altogether. One exception is when a business needs a smaller amount than our established minimum order quantities.
Tacking on Extra Charges
Converters should be looking for ways to save you money. If they're finding any excuse to pad the bill, consider it a sign that it's time to take your business somewhere else.
Creating Unclear Contracts
Always ask for a contract with clear terms and conditions for your custom project.
Wasting Excess Material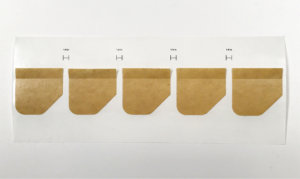 We recently helped a small business switch from a converter that spaced each product an 1/8″ apart on the liner. Working closely with the customer, we learned the spacing was unnecessary. Since each product measured at 1″, they were paying for an extra product's worth of liner for every nine produced. For an order of 10,000, they'd pay for over 1,100 products' worth of liner wasted due to that unnecessary 1/8″ gap.
Excessive waste in the production process adds up fast.
Ignoring Converted Sample Approvals
After converting a small number of your product, a credible custom tape converter should always send you that converted sample batch for approval. A converter that ignores this step misses the chance to bring you peace of mind and to establish trust. If dedicated to your business, they should seek and depend on your input, making sure the result is what you want.
Up-selling for Commission
Are you working with a seasoned expert or a salesperson? To ask the same question differently, if your point of contact benefits from your decisions, how can you trust them to put your interests first?
Signs of Reliable Adhesive Tape Converters

Tape Refunds
If something goes awry with your product, quality custom tape converters offer you material refunds. With Walker Tape Converting, for example, rest assured that faulty material gets refunded risk-free. We, as any credible converter should do as well, look at each project as an investment in your business idea.
Genuine Dedication
The first thing a reliable converter does with a new project is dive in. We let our knowledge and passion show by the detailed questions we ask. Effectively, we want to know your vision inside and out. Expect your converter to conduct thorough research.
The more we learn, the more you save. And every good adhesive tape converter knows that our success begins with your success.
Payment Plan Options
Of course, it may work better for you to pay upfront, and that's fine. But you should at least have the option to pay in smaller installments through the process. Converters that demand full payment upfront tend to focus more on landing their next customer than on keeping you happy.
Lead Time Commitments
You know you've found quality converters when you see our commitment to lead times. And make it a point that you intend to hold us to them.
Once we receive raw materials, count on us to deliver the finished product to you within two weeks.
Raw Material Floor Space
A willingness to hold your raw materials on the floor shows partnership. It signals to you that we want to make your future production even more efficient. For example, if converters refuse to keep your material around, then future lead times always have to wait for materials to arrive. By holding on to your materials, we can fulfill your future orders even faster.
Tips to Help You Find the Right Converter
Shop Around
Ask for several quotes. Compare the prices and lead times of various reputable converters before making a final decision.
Check Better Business Bureau Reports
Whether or not an adhesive tape converter takes advantage of customers isn't always obvious by these reports. But they do help eliminate obvious bad choices.
Find a Converter's Level of Familiarity with Your Project
Does the converter have experience with similar projects? Are they willing to bring in or build new machinery to make your vision possible?
Plan for Future Order Needs
If you expect to make repeat orders, be sure to provide the converter with how much product you'll need. And ask about holding that needed raw material on the warehouse floor.
Research These Quality Adhesive Tape Converters for Reference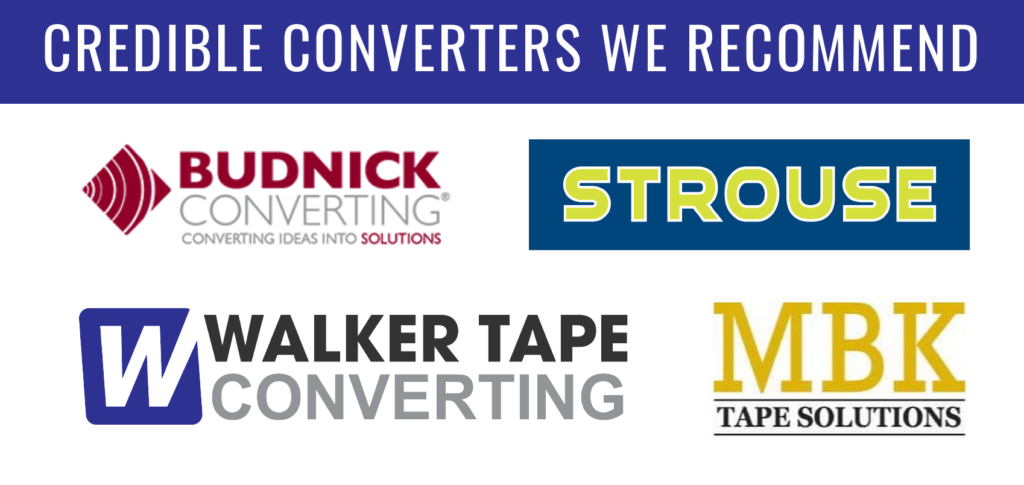 Read More to Become an Even Better-Informed Customer
We want you to be able to navigate the converting world as smoothly as possible. It's the rationale of our blog.