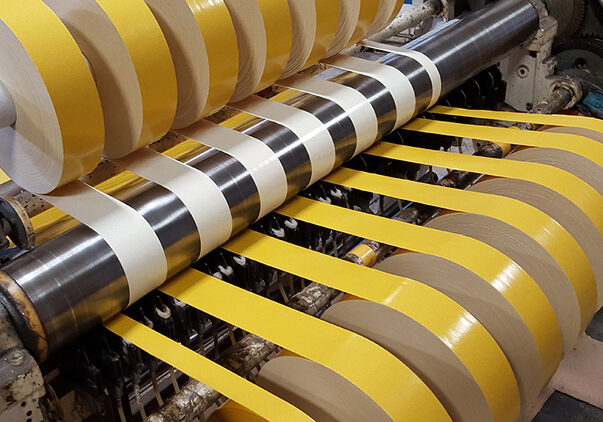 In any business, it's important to assess your vendors on a regular basis to ensure you're getting the service, pricing, and ROI (return on investment) you're looking for. When it comes to tape converting, there are a lot of things an adhesive tape converter can do to help you make a larger return on your investments. Our leadership team at Walker Tape has over 150 years of combined experience in the tape industry. During this time we've become experts in creating the highest quality custom tape solutions that save our customers time and money. These savings come from both the product side because of our excellent supplier relationships and converting efficiencies, as well as the time we're able to save our customers after they receive our products. Our team dives deep into each project's custom production process. We work hand in hand with each project manager to determine whether we can modify the converted product to save them time and waste on the production line. If your adhesive tape converter isn't doing the things below, it may be time to look elsewhere. There are many reasons you may be unsatisfied with your current tape converter.
Reasons You Might Want to Switch
Quality of products
Price
Service
Reliable lead times
Efficiencies in production
Excessive waste during production processes
The first clue that you may not be getting the highest return on your tape and adhesive investments comes from your products themselves.
Your Tape Products Should:
Be reliable
Improve performance
Be converted in a way that maximizes efficiencies on your production line or in the field
Use the correct tape for the application
If your tape products are failing at any point, you need a new solution. We can help you find one that suits your needs. We often have customers come to us with tape products that have been failing for years before they realized they might just be using the wrong tape. We also have many customers who are using a tape that is far too aggressive for their application. Because stronger tapes are more expensive, many reps end up selling a tape to their customers that is way overkill for their specific application, thus increasing the commission of the sales rep. Even if a tape works for an application, it may not be the correct tape for the application. Our depth of tape and adhesive knowledge helps us to determine very quickly whether your current solution is overkill or not. Even if you are using a tape that suits your needs, you may be spending far too much time in production or in the field because of the way your tapes are converted. It's important for your tape converter to understand the big picture of your tape needs and production processes to ensure you have the best tape for your needs.
Other Converters
As a tape converter, it's very common for a customer to come looking for a specific tape for a specific need. Most tape converters will get you what you're looking for and leave it at that. They fail to ask many important questions about how the tape is used. They also fail to ask other important questions about your processes in general to be sure they can get you a product that will help your business to be more efficient.
Here at Walker Tape, we approach the process differently.  We start with the important questions right from the beginning. We recently had a customer come to us looking for a specific tape that is a common medical drape tape. Most converters who get requests for this tape simply get the tape for the customer and move on. We dove deeper to be sure we were getting them the absolute best product for their needs. We asked questions to find out how their production workers like that tape. We wanted to know if it was hard for them to remove from the liner, hard for them to apply to the product, or if it was simply taking a lot of time to work with the tape in production. The main point of this exploration was to find anywhere the tape might cause issues that ultimately cost their business more money. Through those conversations we were able to find some issues we were able to solve. We explored if there was another tape with a better liner that doesn't rip during production, saving the time spent starting over when the liner rips and the extra product costs associated with that. We explored whether tabbing the tape would save them time and money. Beyond production, we looked at how the tape worked in the field, whether or not it was failing or hard to work with for the end user. In the end, these questions help us to product far better products for our customers that save them time and money, as well as relationships with their customers. We do these explorations within our own business as well to find ways to save time and money on our production floor. That means we're able to produce better products at a better price than our competition.
Questions We Commonly Ask Our Customers:
How is the tape product being used?
Does your production manager have any usage issues with your current product?
Does the product ever fail for the end user?
What are the environmental challenges the product will go through? Temperature variance, weather, indoor or outdoor use, etc.
What is the substrate the product is sticking to?
How long does it need to last? Are you looking for a permanent or temporary hold?
If it's for a temporary hold, does it need to remove cleanly or be repositionable?
Is it holding something up? What's the weight?
What's the quarterly volume/usage?
As you can see, there is a lot that goes into ensuring you have the best tape for your needs at the best price possible. We often find that businesses are using a tape that is either more or less aggressive than they need it to be.  The result is that they are either paying too much for their tape or their tape is failing for their application. This is generally because other tape suppliers and converters just don't have the experience or they don't take the time to find the smartest solution. If your current tape converter did not ask you detailed questions about your project, you may not have the best tape for your needs.
Product Pricing
Depending on your situation, we may also ask about the prices you're currently paying for your tape products. If you feel comfortable telling us what you're currently paying, we can often get you a better deal straight from the tape manufacturers. Depending on your industry and product, there are even times when we're able to get a specific market price contracted from our manufacturers to get our costs even lower. Those savings are passed on to you.
Our prices are based on our costs plus a set profit margin and we don't have a sales team we need to pay commissions to. We have excellent relationships with our suppliers and incredible efficiencies in our converting processes. That means we're often able to give our customers some of the best pricing around. We find that about 9/10 times we win business based on our prices alone, but we keep business by producing high quality products that truly fit the needs of our customers.
Converting Capabilities
Our production efficiencies are just one of many benefits of our custom machinery. We have been innovating and patenting new ways of converting tapes as well as building new machines in-house for decades. We have in-house engineers who design and build machines from scratch to ensure optimal efficiency. We've been able to tweak machines to be more efficient than any other machines on the market. There isn't anything we can't do. Our in-house capabilities completely blow away most of our competition. Even if we've never done a project like yours, we have enough experience with a variety of projects that we will be able to find the perfect solution for you. If you've approached a tape converter about a project and been told it's not possible, contact us now. We're confident we can find a solution for you. Even if you're happy with your current tape converter, it's always worth taking a deeper look at your current solution to be sure it's the best solution at the best price.
We cannot stress enough the importance of working with a tape converter that will get you the return on your investment you deserve. If you are ready to work with a tape converter that can meet your needs with quality products customized for your business at amazing prices, contact us today.