tesa® has outdone themselves again with the creation of their 4964 double-sided tape. The tape's strengths and various potential uses are countless and, as we'll see below, span several industries. tesa® 4964's construction involves dousing a tough (45-lb/in tensile strength) fabric with a few extra doses of very tacky (sticky) rubber-based adhesive. The tough fabric base acts like a steel chain stretched between two figurative grappling hooks (the adhesive). The fabric simply does not split – a comforting feat for anyone who's had to deal with a disappointing foam or paper base tape failure. Extra adhesive means extra sticky, but it's also key for achieving adhesion on rough or uneven surfaces.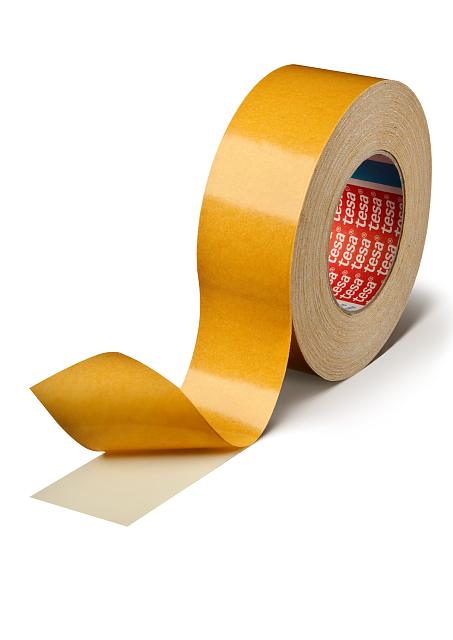 In the adhesives world, rubber adhesives offer a more affordable, less permanent approach than other acrylic options. Rubber adhesive is temperature sensitive and will typically release when heated to around 150 degrees Fahrenheit. This is a big deal because it means 4964, in non-extreme conditions, is essentially permanent until removed. Even better, when it is removed, you can expect to find zero or very little residue, if any.
Carpet installers are already taking advantage of Tesa's success and using 4964 to secure full carpets in place in homes. 4964's extra amount of rubber adhesive pushes into and fiercely adheres to the fibers of carpet bottoms as well as carpet padding. The adhesive is the same on both sides of the tape and sticks to carpet and other fibrous items as well as it sticks to hardwoods. Those using 4964 for carpeting save time and energy without needing to worry about which side of the tape they put down first, and never needing to second guess the tape's performance.
tesa®'s 4964 also matches countless uses in the automotive industry. The tape sticks well to dashboards as well as windshields without leaving any residue mess. When kept within proper temperature ranges, the tape can be used to secure camera's, GPS screens, and cellular phone mounts for easy access. In this setting, users can expect the same reliability and easy, very low residue removal. We like this because it offers users the ability to occasionally adjust mounting locations without destroying their vehicle. In vehicles, 4964 is also ready to hold carpets or floor mats in place and can even serve as an aid in upholstery.
More uses exist in the costume, theatre, and wardrobe worlds. Imagine the time it would take to replace or repair a performer's main costume if accidentally torn on stage. Rather than removing the costume and making time-consuming safety-pin or sewing repairs, turn to tesa® 4964. Just as strong as the alternative and old-fashioned fixes, this tape will save incomparable amounts of time and stress while doing the same job.
The possible uses for tesa® 4964 are innumerable. Here are a few that we've seen:
Carpets: Permanently holding household and commercial carpets in place
Rugs: Stop rugs from sliding on carpet or low friction floors
Linoleum flooring: Secure damaged flaps or hold flooring in place
Hanging decorations: Hold decorations in place without the use of nails
Upholstery: Adhere fabric to cushions and more
Home security: Install home security sensors without the use of nails
Small speaker mounting: Mount personal assistant speakers to walls for convenience
Arts and crafts: Hold photography in frames – here, the sky is the limit
Dashboard stand mounting: Mount phone, GPS, or dashcam equipment
Wardrobe and costume: Quickly and confidently fix clothing tears/issues without needles
Tradeshow: Mount company equipment and products or hold down carpets and rugs
Vehicles: Easily secure carpets and floor mats
Metal working: Temporarily fixate of parts on metal working equipment
We are confident that, if tesa®'s 4964 doesn't meet your needs, we can make something that will. Let our experience and expertise simplify your processes and save you money. Contact us today!