The Electronics Industry Needs Avery Dennison Tapes Now More Than Ever!
Avery Dennison tapes keep electronics companies current with market trends. Consumers expect their devices to keep getting sleeker, more powerful, and lighter. Oh, and they expect all this while also wanting the devices themselves to work more efficiently.
To meet expectations, you need tape to literally hold everything together. Plus, considering the crazy space constraints in electronics, you need tape to do a whole lot more:
Touchscreen compatibility while also providing screen protection

Shock absorption and vibration damping while also being light and thin

Waterproofing while also being reworkable for repairs

Insulation while also dissipating heat

Screen display enhancement while also improving battery life 
That's quite the big ask of tape. Luckily, Avery Dennison supplies tapes that provide all these functions for electronics and more.
Conveniently browse and add Avery Dennison tapes to a free quote request for your electronics application.
Examples of Avery Dennison Tape Applications Across the Electronics Industry
Sleek, lightweight Frame Bonding for Smartphones, Tablets, Laptops, and Desktops
Various Avery Dennison foam tapes work great to hold your electronics together.
Display Screen to Frame

Back Cover to Frame 

Bezel Bonding (as in the plastic part in laptops and computer monitors that the screen attaches to)
Ask one of our experts about which Avery Dennison tape solution makes the most sense for your electronics application. Working with our team is the best way to find the perfect fit for your application. We work closely with Avery Dennison to pinpoint the right choice.
That said, for easy reference, we can include a few Avery Dennison examples for each of these electronics applications.
Avery Dennison Electronics Frame Bonding Examples
Removable, Reworkable Bonding for Electronic Device Maintenance 
One of the most expensive parts of a laptop is the display screen. So, if a device needs repairs, it's vital to be able to repair the issue without causing damage to the screen. 
Avery Dennison provides differential tapes with different kinds of adhesive on both sides. These tapes hold strong to the side meant for permanent bonding. Plus, their other side holds strong as well but can be removed when needed.
Screen Replacement

Battery Removal

Internal Repairs
Avery Dennison Electronics Removable Bonding Examples
We can also work with Avery Dennison to create the perfect custom differential tape to meet your removability specs. Send us a free custom quote request today!
Durable Impact Resistance in the Case of Drops, Bumps, and Other Accidents
Impact resistance or shock absorption is essential with electronics. We're always using them, and we're always facing the challenges of gravity. Avery Dennison knows this and has their product engineers spend hours in the lab dropping electronics thousands of times to test their durability.
You may notice the examples below also match the foam tape examples for frame bonding. The multiple benefits of Avery Dennison's foam tapes allow them to accomplish a lot with a single bond. All at once, these foam tapes hold the electronics together, absorb impacts, damp noises, create a waterproof seal, and are touchscreen ready.
Avery Dennison Electronics Shock Absorption Examples
Waterproofing Electronic Devices
Like mentioned previously, Avery Dennison foam tapes provide electronics with a complete seal. This waterproofs the device as well as keeps out other unwanted contaminants. 
Avery Dennison Electronics Waterproofing Examples
Touchscreen Capabilities 
Since more and more electronics call for touchscreens, it only makes sense for the tapes that hold them together to be compatible too. Avery Dennison has several foam and film tapes that support the finger feedback necessary to make touchscreens work.
Avery Dennison Electronics Touchscreen Examples
B
attery & Component Efficiency in Electronics
Avery Dennison's tapes can also help electronics run more efficiently. They do this by offering the following traits:
Better Heat Flow Performance

Insulation to Protect Internal Component Function
Your electronics need good insulation to perform at different temperatures. They also need a way to protect internal components from overheating. Different parts of electronic devices produce heat as a byproduct. 
Avery Dennison tapes can spread that heat away from the source to help the device run better for longer.
Avery Dennison Electronics Efficiency Examples
Sound & Vibration Damping for Keyboards, Touchpads, and Computer Fans
Consumers want to be able to work on electronics without the constant sound of typing. They also want to work without the thrum of a fan always randomly firing up. 
The tapes that Avery Dennison supplies make quieter electronics possible. 
Quieter Keyboards & Touchpads

Silent Fans
Avery Dennison Electronics Damping Examples
Screen Protection for Touchscreen Devices and Monitor Displays
So far, we've mainly focused on double-sided tape options. But Avery Dennison also has various single-sided solutions that improve electronic devices.
The main example here, of course, is with their screen protectors. Avery Dennison has fantastic film protectors to choose from.
Avery Dennison Electronics Screen Protection Examples
Attaching Components to, and Inside of, Electronics
Electronics require so many attachments to keep up with the performance consumers now expect. Here is a glimpse at just a few: 
Mesh Speakers & Microphones

Backlight Unit (BLU)

Keyboards 

Cameras

Batteries

Fixed Circuit Boards
Each of these attachments have different needs when it comes to offering a secure bond. Avery Dennison's product line includes plenty of options to keep you covered. One example involves bonding to low surface energy (LSE) plastics. These surfaces can be tricky to stick to. 
Avery Dennison Electronics Components Attachment Examples
Improved Screen Display Performance in Electronics
A lot of layers go into giving an electronic device a vibrant screen display. These layers include light reflectors, guide plates, diffusion sheets, brightness enhancing films, and light shielding. Avery Dennison tapes work to do all of these applications. 
For example, they have blackout tapes to shield lines of light from being visible along the screen sides.
Avery Dennison Electronics Screen Display Enhancing Examples
Biocompatible Adhesives for Wearable Devices Involving Skin Contact
Like the above-mentioned removability performance, wearable devices need Avery Dennison differential tape. One side needs to be sensitive enough to stick to skin, then the other side needs to be strong enough to permanently hold the device itself.
Avery Dennison Electronics Biocompatible Examples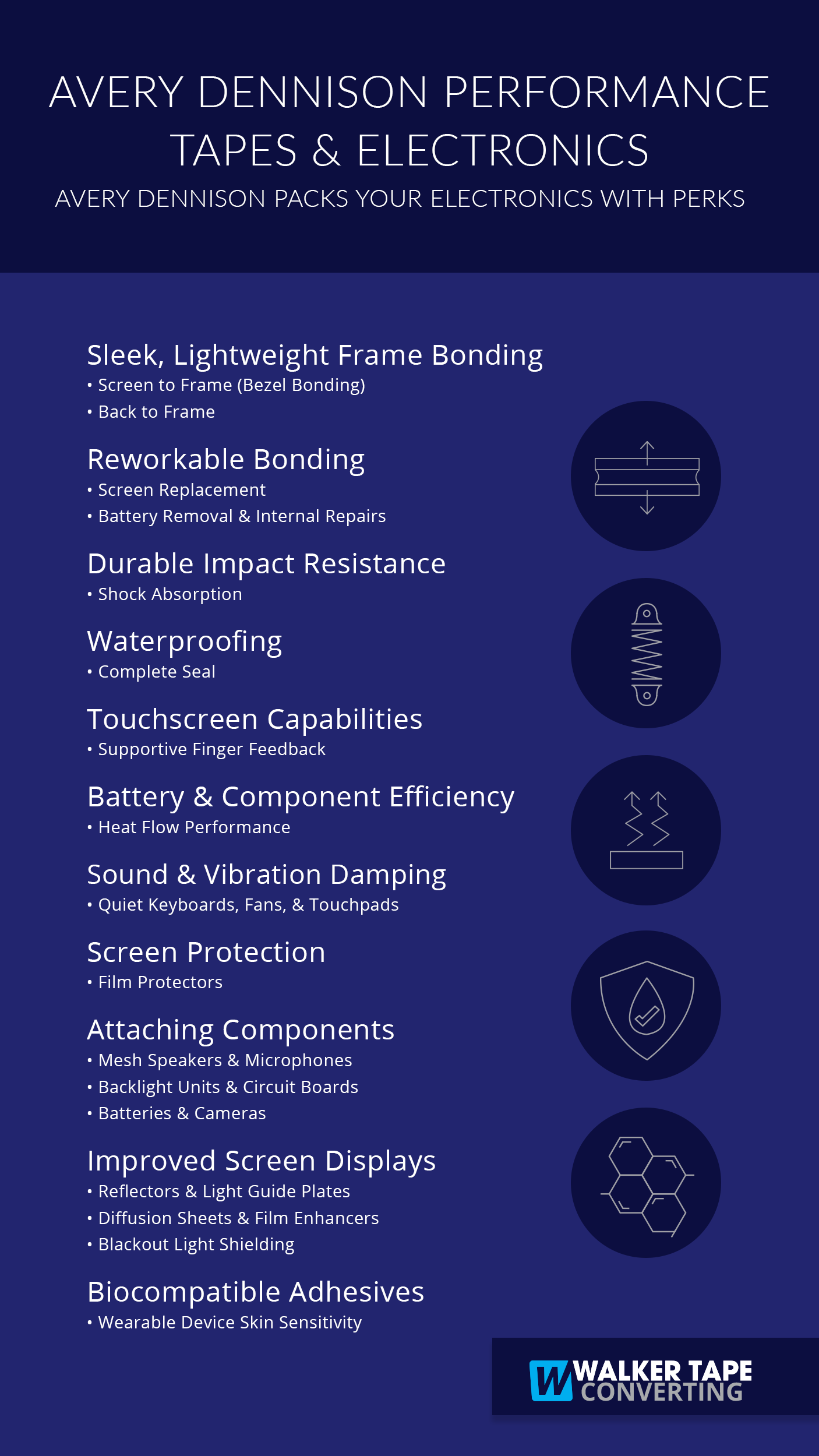 Contact us today to find the perfect Avery Dennison tapes for your electronics!