Avery Dennison Core Series™ Portfolio Overview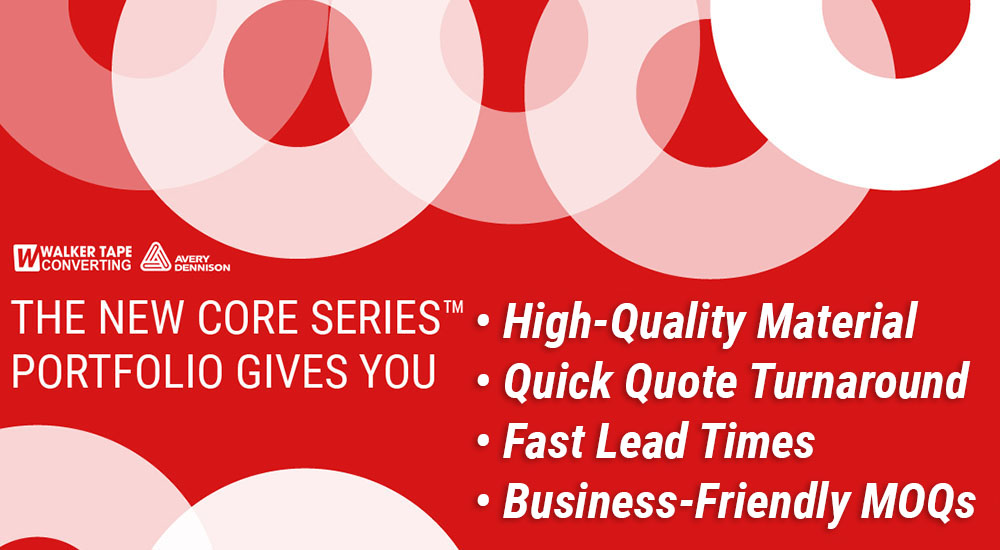 What Avery Dennison's New Core Series™ Portfolio Offers
The new Cores Series™ Portfolio, currently available in North America, features 32 high-quality Avery Dennison tapes across nine adhesive categories. Here are some of the immediate benefits:
A helpful, color-coded product selection tool that speeds up the entire quote process

An easy-to-follow four-step system to find our customers their precise adhesive solution

Services that support fast lead times on samples and material purchases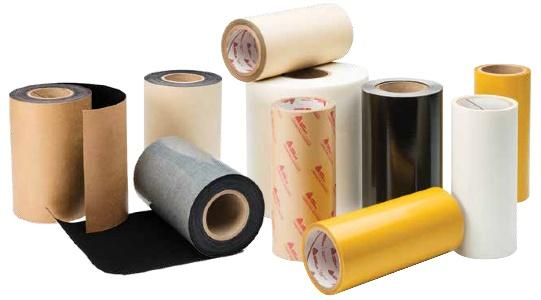 The Product Selection Tool
When we get right down to it, gathering all the necessary info and sifting through all the various applicable strengths and limitations of potential products can quickly become a lot to juggle. The beauty and genius of Avery Dennison's new product selection tool lies in how well it tackles that complexity. In fact, the whole design makes a complex system simple.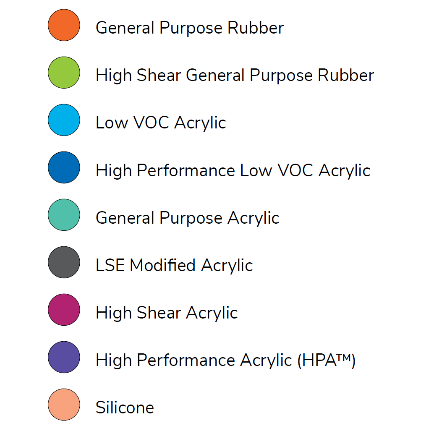 The product selection tool gives us six charts and five tape construction examples that make it faster than ever to find the exact adhesive tape you need. The charts are color-coded according to adhesive type, and they allow us to pinpoint the exact adhesive, carrier, liner, and construction to meet the unique challenges of your application. 
Plus, Avery Dennison has organized their entire Core Series™ selection tool down to four quick and simple steps.
The Four Steps
Lamination

: What type of material will you be laminating to?

Surface Energy

: What is the surface energy of the substrate your customer is adhering to?

End-Use Requirements

: Are there any other end-use application requirements?

Tape Construction

: What tape construction is needed?
These steps include the essential information we need from you in order to provide the ideal solution for your project. They're so vital to the process that we're also going to provide another blog post that thoroughly dives into each of the above questions. But for now, let's jump into more of the portfolio's benefits.  
The Support Services 
Along with their 32 high-quality tapes and their streamlining selection tool, Avery Dennison's Core Series™ Portfolio also comes with several other benefits:
Instant volume-based pricing

24-hour standard sample (9" x 30ʹ) turnaround 

Dedicated application support call line and email address

One-roll MOQs (based on published lengths provided in their selection tool)

Four-day lead time

Free slitting for 4" rolls and above (excluding some products noted in their selection tool)
What Our Relationship with Avery Dennison Means for Our Customers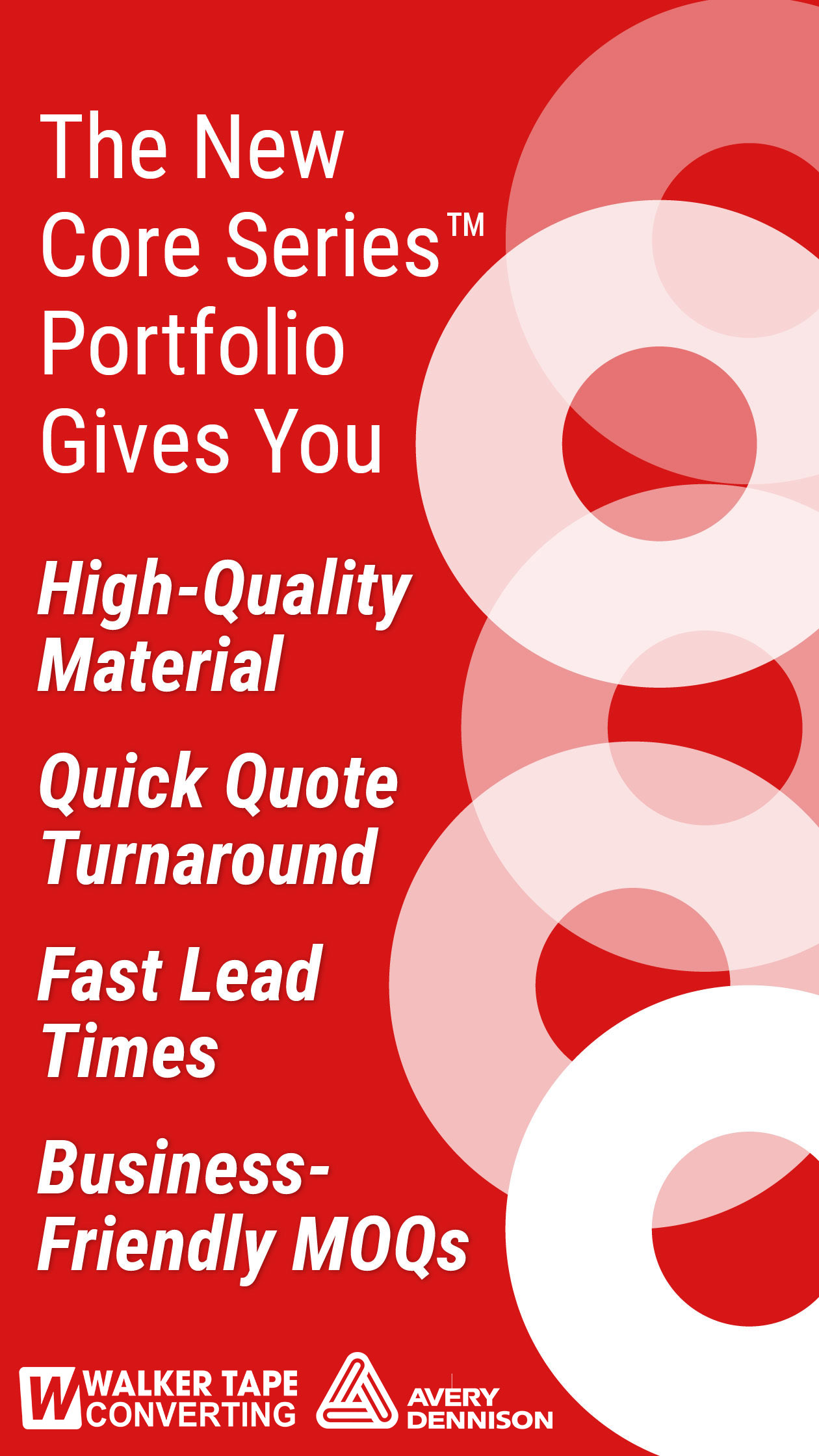 Quick Quote Turnaround 
While the benefits of this new series make our lives as converters easier, they most importantly are geared toward making everything about your experience as a customer better. Equipped with this product selection tool, instant volume-based pricing, and dedicated support services, our research phase of finding you the best option is quicker than it's ever been before. 
Your Core Series™ Benefit: Receive the fastest possible quote on the Avery Dennison product perfectly suited to your needs.
Fast Lead Times
The above-mentioned support services include such words as instant volume-based pricing, 24-hour standard sample turnaround, dedicated support call line/email address, and four-day lead times. Each of these advantages allow us to offer you fast lead times.
With instant pricing options and a dedicated support line, we can get back to you sooner on costs and on all communications. The 24-hour standard sample turnaround also expedites the product sampling stage, helping you decide on a tape sooner. Plus, the Core Series™ feature of four-day lead times dependably speeds up how quickly we receive material from them and you receive finished converted pieces from us.
Your Core Series™ Benefit: Enjoy consistently fast lead times on both samples and converted materials.
An Array of Options for Business-Friendly MOQs
Now for the last thing we'll touch on for this overview: minimum order quantities (MOQs). Sometimes, due to higher minimums than you need, it can be quite the challenge to find your business the right material to go with. However, with the product selection tool, we can more easily narrow down the options to a few products that make the most sense considering your desired volumes. 
Your Core Series™ Benefit: More easily find tape options that make the most business sense.
Take a look at the various Avery Dennison tapes we offer, and build a free quote today.