Kitchens tend to be difficult places for appliances and the adhesives that hold them together. The average kitchen appliances have to deal with temperature extremes, in industrial kitchens for long periods of time. On top of that, they are often exposed to water, oils, and other liquids.
As a result, the right adhesive for kitchen appliances can be hard to find. But manufacturers have less to worry about thanks to tesa® 7273 MP ACX+. 
This tape is made to withstand just about anything. There are a lot of things that make it great for manufacturing. To help illustrate this, let's take a look at some of the uses for this tape in kitchen appliances.
Evaporator Mounting
A great place to start is with refrigerator evaporators. If you're unfamiliar with evaporators, they are the coils that create the cold temperature in fridges and freezers.
As you can imagine, whatever is used to mount an evaporator is going to be exposed to some serious cold. Intense cold can cause other tapes to contract. This decreases the surface they cover and, as a result, the area of their hold.
tesa® 7273 MP ACX+ stands out from other tapes because it is made with an acrylic foam base. The viscoelastic nature of this base means that the tape is less likely to change shape or size due to changes in temperature.
That reason on its own could be enough to make tesa® 7273 MP ACX+ ideal for evaporator mounting. However, there is even more that makes this a good tape for the job. The pure acrylic adhesive used on the tape can create a strong bond with aluminum and steel.
Considering that many refrigerators and freezers are made of one or both of those materials, tesa® 7273 MP ACX+ could be perfect. Manufacturers won't have to worry about whether or not the tape will really take hold.
tesa® 7273 MP ACX+ may be able to make the manufacturing of cooling systems in kitchens that much easier and cheaper.
Display Mounting
Of course, that's just one part of a kitchen to consider. There are plenty of other appliances that can be found in just about any kitchen. 
For a while now, these appliances have had some kind of display on them. Recently, these displays have become more intricate and in need of protection as these appliances have become more intelligent. Manufacturers need a tape that is thin and can withstand intense heat.
Not many tapes offer the same kind of help with this that tesa® 7273 MP ACX+ can. The thin foam base creates a slim bond that will look clean while holding strong.
Much like with the evaporators, tesa® 7273 MP ACX+ is designed to handle just about any temperature. It can withstand about 100° C for long periods of time and 200° for shorter intervals. This makes it ideal for appliances like ovens, microwaves, or anything else that may need to heat up and stay hot for a while.
Whether you are manufacturing kitchen appliances for industrial or domestic use, tesa® 7273 MP ACX+ should give you the bond you're looking for. It is strong, flexible, and capable of withstanding extreme temperatures. Plus, it is thin so your finished products will look great too.
How Walker Tape Converting Can Help
When working with tapes like tesa® 7273 MP ACX+, it can seem a little daunting at first. Generally, when these tapes come straight from manufacturers, they come in giant rolls. This isn't necessarily the most usable format.
That's why converters like Walker Tape Converting exist. Converters help you customize a tape to fit your exact needs. But what does that look like?
We help you pick the tape you need. Then we talk about what you need from the tape. We help you answer questions like:
Should the tape come in a roll or individual pieces?

How big should the rolls/pieces be?

If it's in pieces, what shape do you need the pieces in?

Do you need the tape laminated with a different substrate?

Do you want custom lining?
Each of these questions help you get closer to creating the exact tape that you need.
For example, if you're looking to customize tesa® 7273 MP ACX+ for mounting an evaporator, we'll cut the tape to the size you need. This should make it easier and faster for you to produce your product. You don't have to waste time and labor getting the tape in the shape you need. We'll do it for you.
If you need some more clarification of what a converter does, you can read about it on our blog.
We offer several different converting services that can make your finished products come out better than ever. These include:
Each of these capabilities can be combined or used on its own to make the tape you need. If you're looking for custom tesa® 7273 MP ACX+, we've got your back, as its foam base is perfect for converting.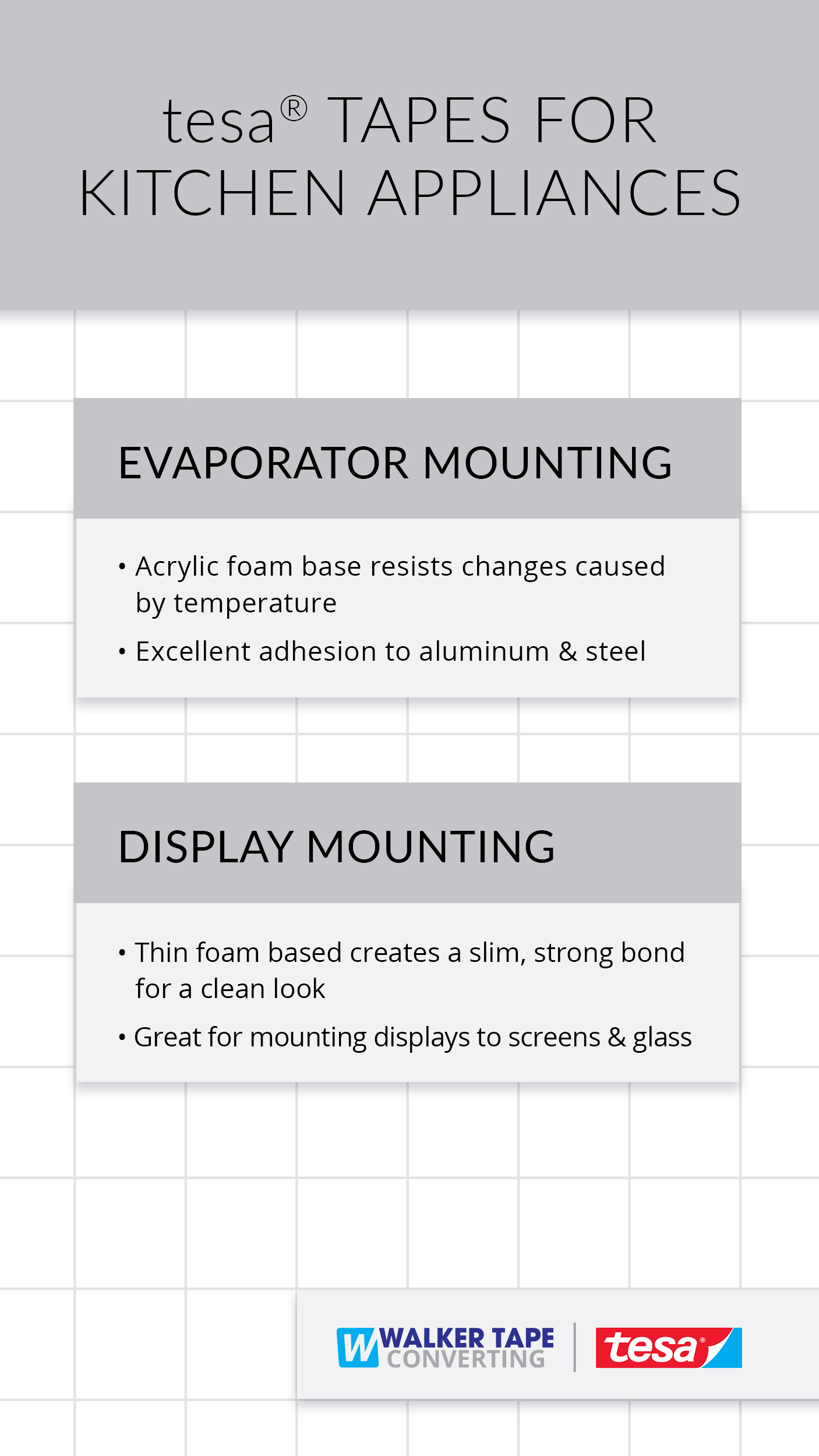 If you have any questions, comments, or concerns, reach out to us! We're here to help you out.
If you're ready to start working with us, reach out for a free quote. Walker Tape Converting is dedicated to helping you create the best products you can!