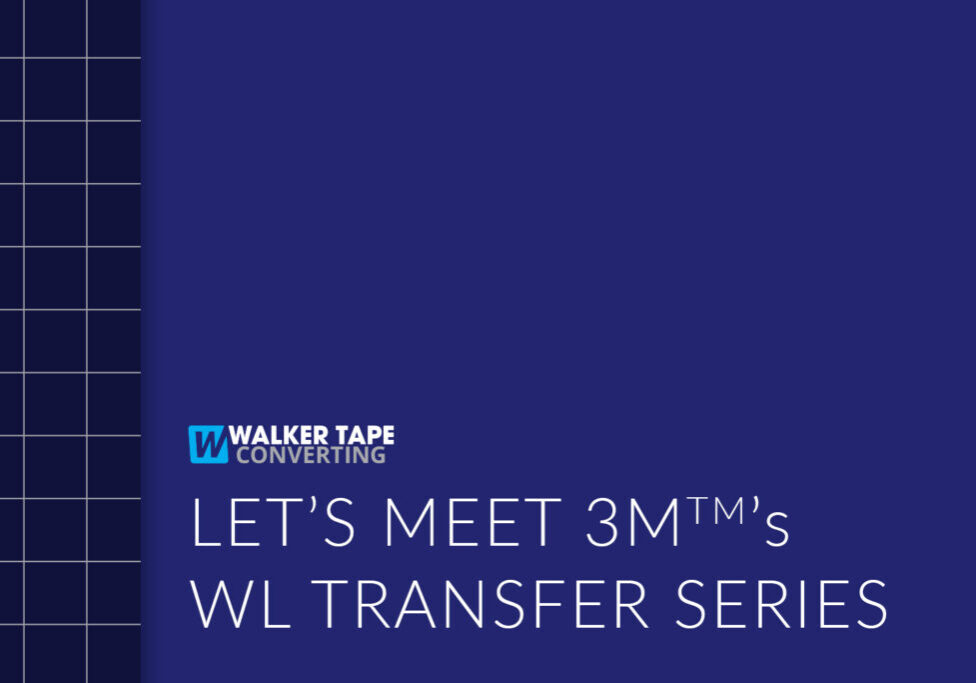 It's no secret that we love 3M™ and their tape. As one of their Preferred Converters, we get the chance to work with all different kinds of adhesives and tapes. Then we get to pass that on to you to use on your projects.
One tape series from 3M™ that we're particularly excited about is the 3M™ WL Transfer Series. These tapes have quite a bit to offer, so let's take a look at them together.
The WL Transfer Tape Series
We all know what a pain Low Surface Energy (LSE) substrates can be. There are a lot of adhesives that simply won't stick to them. This gets more complicated when you want them to be on a transfer tape.
That's what makes 3M™'s WL Transfer Series so great. These tapes are made to deal with LSE substrates without any problem. Plus, they are, as you guessed, transfer tapes. So, you get that nice, clean, thin bond that transfer tapes provide.
There are quite a few tapes in this series. For ease's sake, we're only going to talk about four of them.
Working with foam can be difficult. It gets even harder when you are working with foam gaskets. With those, you need a really great seal, so finding the right adhesive is imperative. Transfer tapes like 3M™'s 9772WL could work perfectly.
This tape creates a thin bond, works well with LSE substrates, and resists water well. This all together makes it a great choice.
Of course, foam gaskets aren't the only kind of foam that a project might have. There are plenty of projects that may include big pieces of foam that need bonding, like on upholstery. This is where 9773WL can come into play.
This tape can bond well with foam and other LSE substrates, plus it can handle humidity without a problem. This makes it ideal for just about any situation.
Fabrics are another material that pose an issue for adhesives. They don't allow for easy wet-out, making them an LSE substrate. Finding a good transfer tape that will work with fabrics is a bit of a struggle. But with 3M™'s 9774WL, there is no struggle.
9774WL handles fabrics easily and even has high chemical resistance. This means that it can withstand most cleaners and other substances a fabric might be exposed to.
Finally, let's take a look at 3M™'s 9775WL. It is capable of handling something that a lot of tapes struggle with, textured plastics. Plastics, even when they're smooth, can be difficult to handle. When they have texture, suddenly wet-out is even harder.
9775WL is designed to handle all kinds of LSE substrates, including textured plastics. Not only that, but it can handle UV exposure, making it a great choice for projects that are exposed to the elements.
Like we said, here at Walker Tape Converting, we love 3M™ tapes. And now you can see why, because the WL Transfer Series on its own is a great tape series. And that's just one series!
If you think that it's the right fit for your project or would like to explore other adhesives options, reach out to us. Our adhesives experts are here to help you with any and every project you may have.