As you probably already know, a thin bond can make all the difference in how good a finished product looks and functions. So, when working with tape, it is not uncommon for people to seek out the thinnest bond possible.
This means that people generally try to steer clear of foam tapes. Many believe that the only way to get a thin bond is with film tape.
However, there are a lot of benefits that could come from using foam tape. Plus, just because it's thought of as a puffy foam doesn't mean that it can't create a thin bond.
What Do Foam Tapes Have to Offer?
Let's start just by going over what makes foam tapes worth using in the first place.
One of the best benefits of foam tape is that it is incredibly viscoelastic. This means that it can be pulled and compressed and still snap back to the original shape. As a result, foam tape can take all kinds of pressure without tearing or stretching out. Foam tape is perfect for projects that are in less-than-ideal conditions.
Foam tape is also great for many projects because it's easy to convert. Foam tape is ideal for die-cutting and kiss-cutting, both of which are some of the main capabilities in converting.
If you need a flexible, viscoelastic tape that is easy to customize, then foam tape is the right choice for you.
Which Foam Tapes Offer a Thin Bond?
Knowing how well foam tape works doesn't necessarily mean that it can create a thin bond, but there are plenty of foam tapes that can create the bond that you're looking for.
Here are some examples from some of the best tape manufacturers around.
The 3M
TM
VHB
TM
Tape GPH Series
3M is already incredibly well-known for their high-quality tapes. So, it shouldn't be surprising that they also can provide you with a fantastic foam tape.
The particular tapes we want to focus on is the 3MTM VHBTM Tape GPH Series. This is a group of foam tapes that are known for having a high bond in pretty much any environment, including high temperatures.
These tapes can bond with just about any medium and high surface energy materials. This includes materials like:
Plastic

Metal

Painted Surfaces

Glass
This shows that the 3MTM VHBTM Tape GPH Series is very versatile and can be used for several different projects. In fact, 3MTM VHBTM Tape GPH Series' initial tack and easy bond with certain surfaces has made it ideal for use in projects like:
Assembly of rail cars

Attaching exterior glass windows to oven doors

Putting together lighted box signs
Each of the projects listed above are ones that require thin bonds for the look and functionality of the final product.
Another thing that makes these tapes great for thin bonds is that they come in three different thicknesses:
These three thicknesses are plenty thin, so they should help you get the bond that you are looking for.
Avery Dennison FM 2108
Another fantastic kind of foam tape is Avery Dennison's FM 2108.
This tape is well known for doing well with both low and high surface energy surfaces. This means that it can bond with just about any surface you can think of. As a result, this is a pretty popular tape.
FM 2108 is also good in pretty much any temperature. Its temperature resistance is great, being able to withstand long-term exposure to extremely low and high temperatures. As a result, many people use this tape for outdoor projects.
Another great part of FM 2108 is that it has a very high initial tack. It takes very little time for this tape to grab onto the surface that you place it on. 
Because of all of these benefits, FM 2108 is often used for projects like:
Mounting signage

Floor underlayment

Sealing irregular surfaces
Much like with the 3M TM VHBTM Tape GPH Series, the applications of FM 2108 show what a great, thin bond it can create.
This tape is 1/8" thick, but there are also thinner versions of this tape available. They are:
As you can see, there are a lot of reasons why this tape is a favorite.
tesa® ACXplus Foam Tapes
Finally, let's take a look at tesa® ACXplus Foam Tapes.
These tapes are made with an acrylic foam that has had the adhesive infused into it instead of coated onto it. This helps make the tape and the adhesive stronger. It helps keep not only the carrier from tearing, but also the adhesive.
One of the most unique benefits that tesa® ACXplus Foam Tapes offer is that they aren't just white like most foam tapes. You can get these tapes in a clear construction. Meaning that you can use them to create an even cleaner look.
tesa® ACXplus Foam Tapes have another pretty great benefit. They are newer to the market. This means that their prices are a bit more cost effective than others, as they don't have their reputation fully built up yet. This can be a great reason to use these tapes all on its own.
These tesa® tapes are used in similar applications as the others, including:
Mounting emblems

Building glass walls

Mounting glass on doors
There is so much potential to this newer set of tapes, including creating a thin bond. It will be exciting to see how it will be used moving forward.
Each of these kinds of tapes may help you achieve the thin bond that you've been looking for. Not only that, but they can also provide you with the added benefits of foam tape.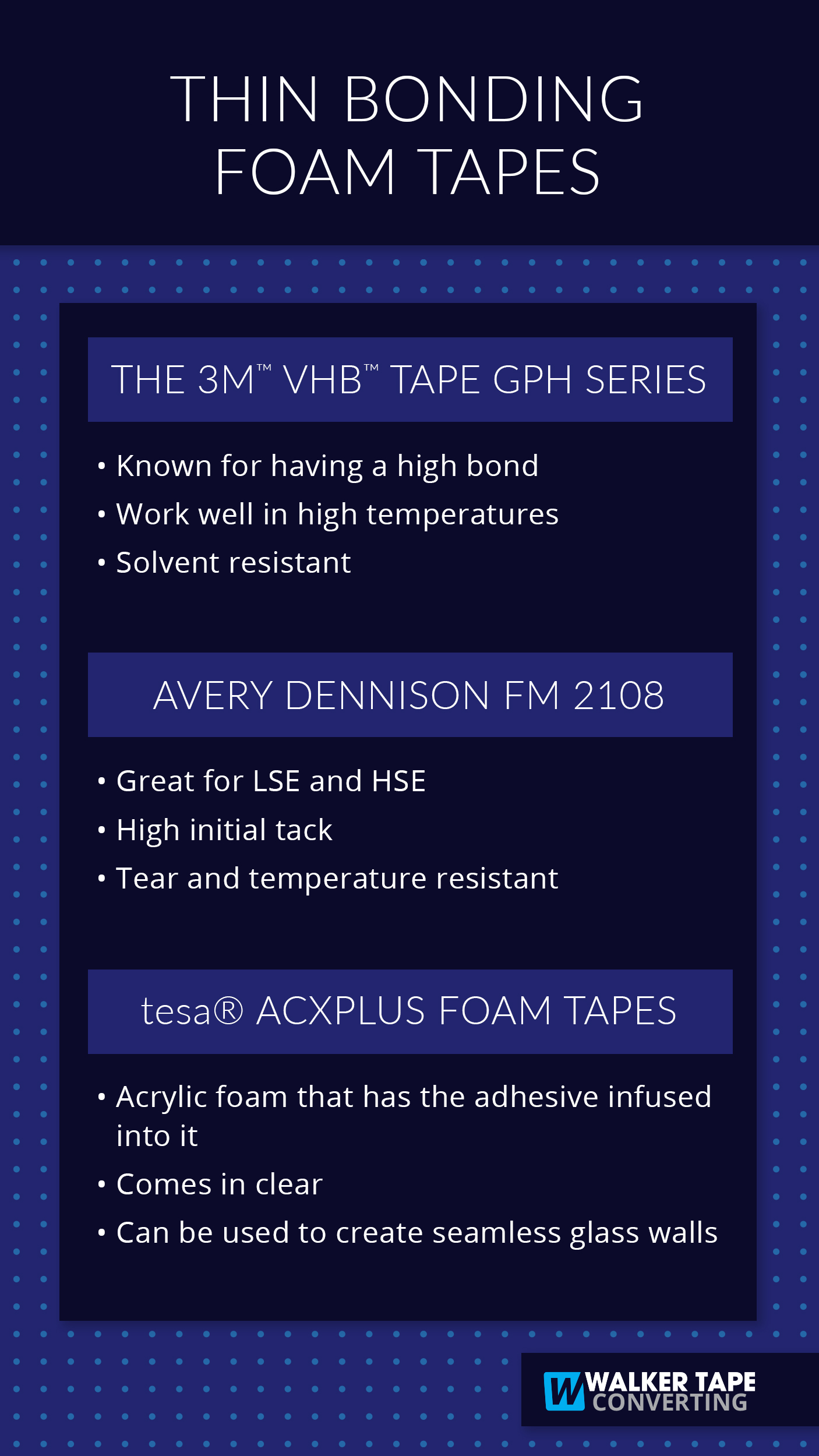 Once you know which tape you would like, we at Walker Converting will help you customize the tape to suit your exact needs. We have a long list of converting capabilities that will give you the tape you need.
When you're ready to get started, contact us. Our team of converting experts will work with you to make the perfect foam tape for your project.