FM 2108: Foam Tape for LSE Applications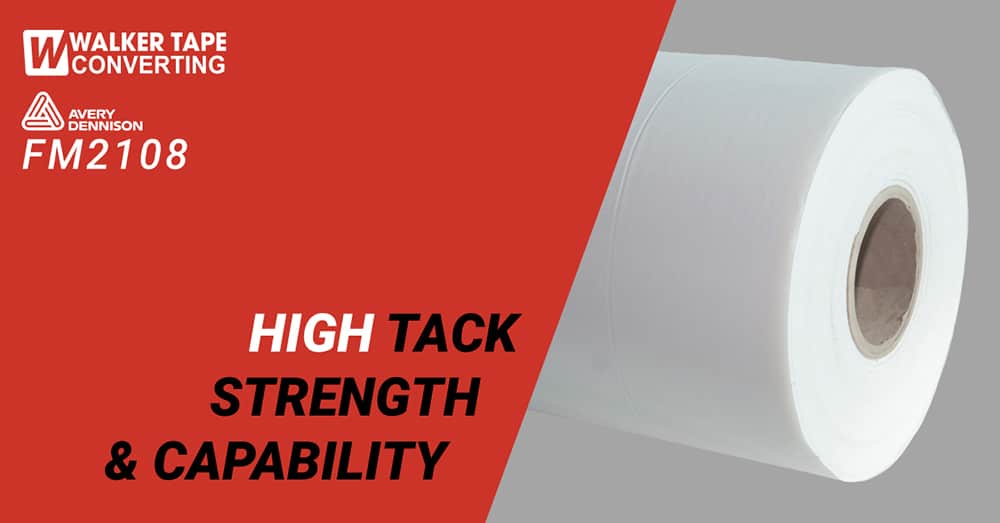 FM 2108 Foam Tape Using High Shear Rubber Adhesive
FM 2108 by Avery Dennison is a double-sided foam tape. Specifically, it consists of a 1/8" thick white polyethylene (PE) foam backing double-coated with a high shear rubber adhesive. This combination allows it to bond, as Avery Dennison puts it, "to a wide variety" of both low surface energy (LSE) and high surface energy (HSE) materials with "high shear strength and the ability to fill gaps."
Below, this spotlight on FM 2108 foam tape goes into more detail about these and other benefits.
Features
Adhesive: High shear rubber

Adhesive thickness: 5.2 mil (2.6 mil on each side)

Release liner: 60# white densified (super calendered) Kraft paper

Release liner thickness: 3.5 mil

Carrier: White PE foam

Carrier thickness: 124.8 mil (1/8")

Total thickness: 133.5 mil

Bond substrates: LSE and HSE 

Initial tack: High

Shear strength: High

Tensile strength: High

Tear Resistance: High

Short-term high temperature resistance: 200°F

Long-term service temperature range: -40°F to 175°F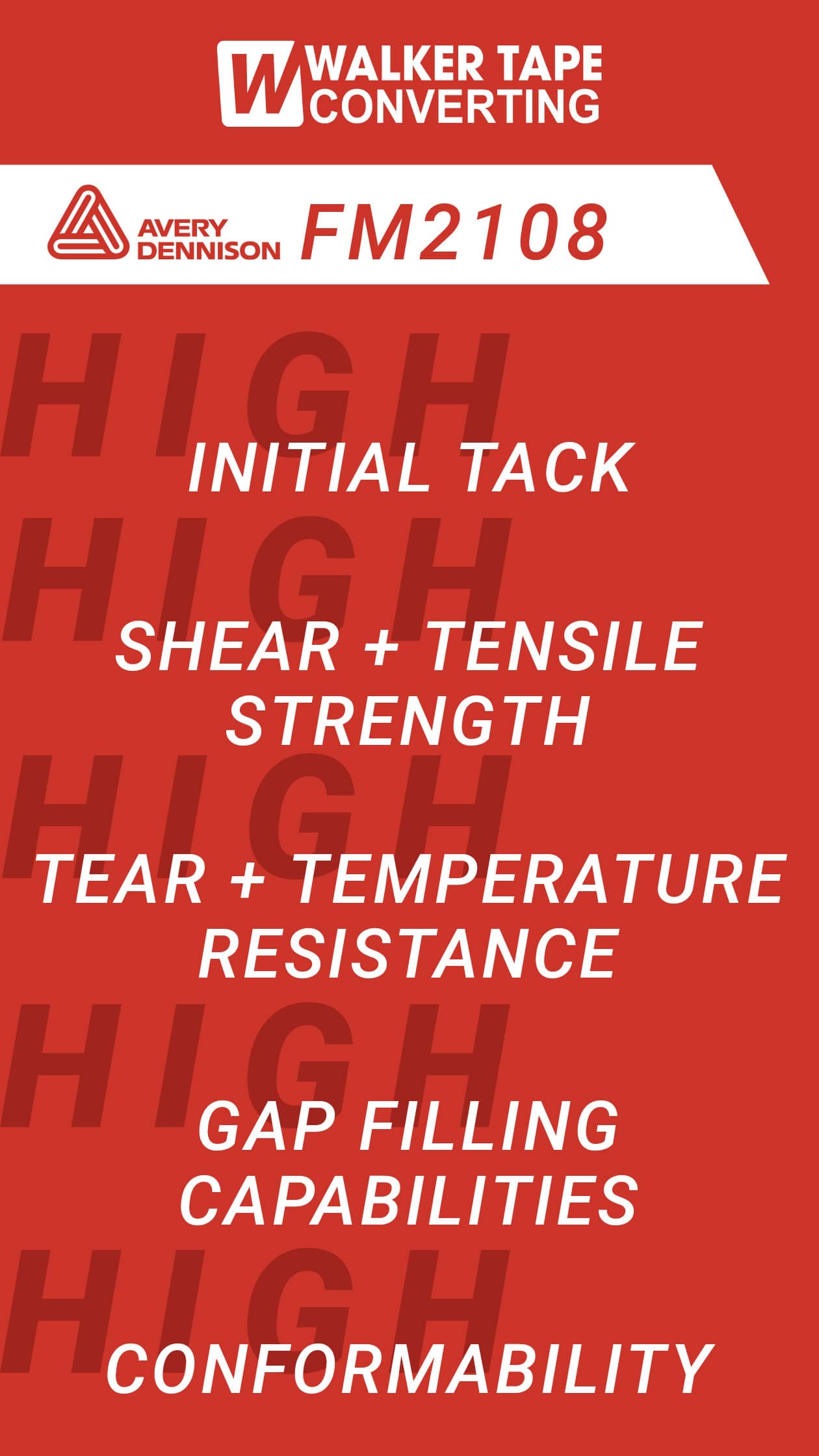 Performance Benefits of FM 2108 Foam Tape's Rubber Adhesive 
Excellent bond to various surfaces

High initial tack

Powerful shear strength

Good temperature resistance
Excellent bond to various surfaces: Its bonding versatility is one of FM 2108's best attributes. This double-coated foam tape holds reliably to an array of materials along the LSE and HSE spectrum. 
High initial tack: Avery Dennison describes this strength as "high tack for quick initial bond." The idea is on immediate performance. All pressure-sensitive adhesives (PSAs, also known as self-stick adhesives), including FM 2108, need to cure for 72 hours before reaching 100% of their bonding strength. But often on the production floor, we need a reliable hold much faster than that. We may not need the hold to be at 100% of the bond strength, just strong enough to be processed. And with high initial tack, we can get quick-stick results that can go through production immediately.
Powerful shear strength: Shear strength is an adhesive's ability to hold against forces pulling or pushing on a bond. For example, when we mount a nameplate to the wall, gravity pulls down across the horizontal bond between the sign and the wall. And that's just a static example. In flooring, there needs to be a bond strong enough to withstand across-moving forces such as foot traffic, heavy machinery, furniture sliding, etc. Whatever forces may push or pull on your application, FM 2108 brings high shear strength for a sturdy hold.
Good temperature resistance: Its reliable bond holds strong over a wide temperature range as well. It performs even with long-term exposure to -40°F to 175°F. And for short periods (minutes, hours), FM 2108 foam tape can resist heat up to 200°F.
Performance Benefits of FM 2108's PE Foam Carrier 
Shock absorption

Sealing and gap-filling properties

 

Conformability

Dimensional stability

Tensile strength and tear resistance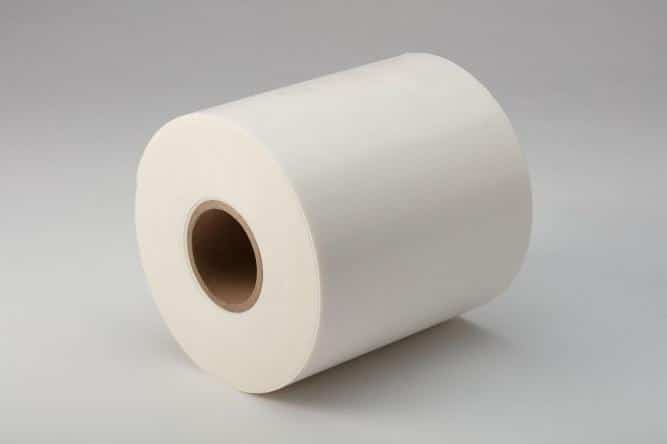 Shock absorption: Foam means more cushioning. And this added layer of cushion absorbs impact better than other fastening options like glue, screws, or rivets. The PE foam ensures that your applications are less susceptible to impact damage.
Sealing and gap-filling properties: The PE foam in FM 2108 protects your products from wearing down by sealing out environmental elements such as dust and moisture. This gap-filling ability makes it a good choice for gasketing, especially for irregular surfaces prone to slits and spaces. 
Conformability: Both FM 2108's PE foam and rubber adhesive conform well to irregular and uneven shapes. The rubber adhesive wets out while curing, strengthening its bond by spreading across (increasing contact with) the bonding surface. Combine this wet-out effect with the PE foam's above-mentioned gap-filling capability, and you have a flexible solution for issues like vibration damping.
Dimensional stability: Put simply, it's easy to handle for everyone involved, whether it's your production crew, shipping team, or customer using your finished product. Plus, PE foam tape's stability die-cuts like a dream, saving you time and money on converting costs. 
Tensile strength and tear resistance: Reinforcing an already high-performing rubber adhesive with a PE foam carrier makes for a strong dynamic. And sure enough, FM 2108 foam tape has impressive tensile strength and tear resistance.
Common Applications
Cushion packaging

Joining irregular surfaces (signs, nameplates, plaques, POP/POS Displays, etc)

Indoor general-purpose mounting (plastic hooks, racks, dispensers, etc)

Gasketing/sealing irregular surfaces

Surface protection

Providing shock absorption, vibration damping, insulation, barriers, buoyancy

Floor underlayment
Other Carrier Thickness Options in Avery Dennison's PE Foam High Shear Rubber Adhesive Lineup 
FM 2116

: 1/16" PE foam carrier double-coated with the same high shear rubber adhesive 

FM 2132

: 1/32" PE foam carrier double-coated with the same high shear rubber adhesive
Is Avery Dennison's FM 2108 the tape for your project? Conveniently add it to a free quote today.