Thermal transfer is an important process but can be one that's tricky to manage. Tape is often a go-to choice because it's pliable and can create thin bonds. 
Even though tape tends not to be thermally conductive, it can still create a great channel between a source and a sink. Its thickness (or lack of thickness) allows the heat to travel with little resistance.
This makes tape a great option when managing thermal conductivity. However, finding a tape that can properly handle a thermal transfer is a different story entirely.
Luckily, 3MTM has all kinds of tape solutions for just about any issue, including thermal management.
3M
TM
's Thermally Conductive Tapes
Among their many tape collections, 3MTM carries a whole line of thermally conductive tapes. This collection features a wide variety of tapes, so you can have exactly what you need!
But with so many, it can be a little intimidating, so we thought we would highlight a few to help you narrow it down.
One common problem that people face with thermal management is uneven surfaces. If the surfaces of your source and sink (or other substrates) are a little irregular, give 3MTM 8810 a try.
This tape has good thermal transfer, high mechanical strength, and conforms well to awkward shapes. It also:
Has excellent shock performance
Is halogen free
Comes in different roll sizes (which helps with converting)
Sometimes thermal management is less about thermal conductivity and more about electrical insulation. For these situations, 3MTM offers 8926.
This tape is perfect for electrical insulation for a number of reasons, including the fact that it dampens vibrations really well. Of course, it also offers fantastic dielectric performance.
On top of all this, 3MTM 8926 also:
Has great thermal conductivity
Has low thermal impedance
Has strong adhesion performance
It's not uncommon to have a low surface energy (LSE) substrate involved in your thermal management. In situations like that, you'll want to turn to 3MTM 8815. This tape has excellent wet-out performance. This allows it to grab on to some of the most difficult surfaces to get a hold on.
3MTM 8815: 
Has excellent shock performance
Is halogen free
Comes in different roll sizes (which helps with converting)
The last tape we want to highlight, 3MTM 9876-10, is a great thermal management tape. Like all the tapes, there is a lot about this one that makes it fantastic. 
One specific feature is that it creates a thermal spreading path that is uniform in how the heat is distributed. This helps solve a problem that many thermal management tapes have, which is they don't always provide a specific path for the heat to follow.
Of course, there are other benefits to 3MTM 9876-10, like:
Being easy to convert
Having a high performing adhesive
Being very flexible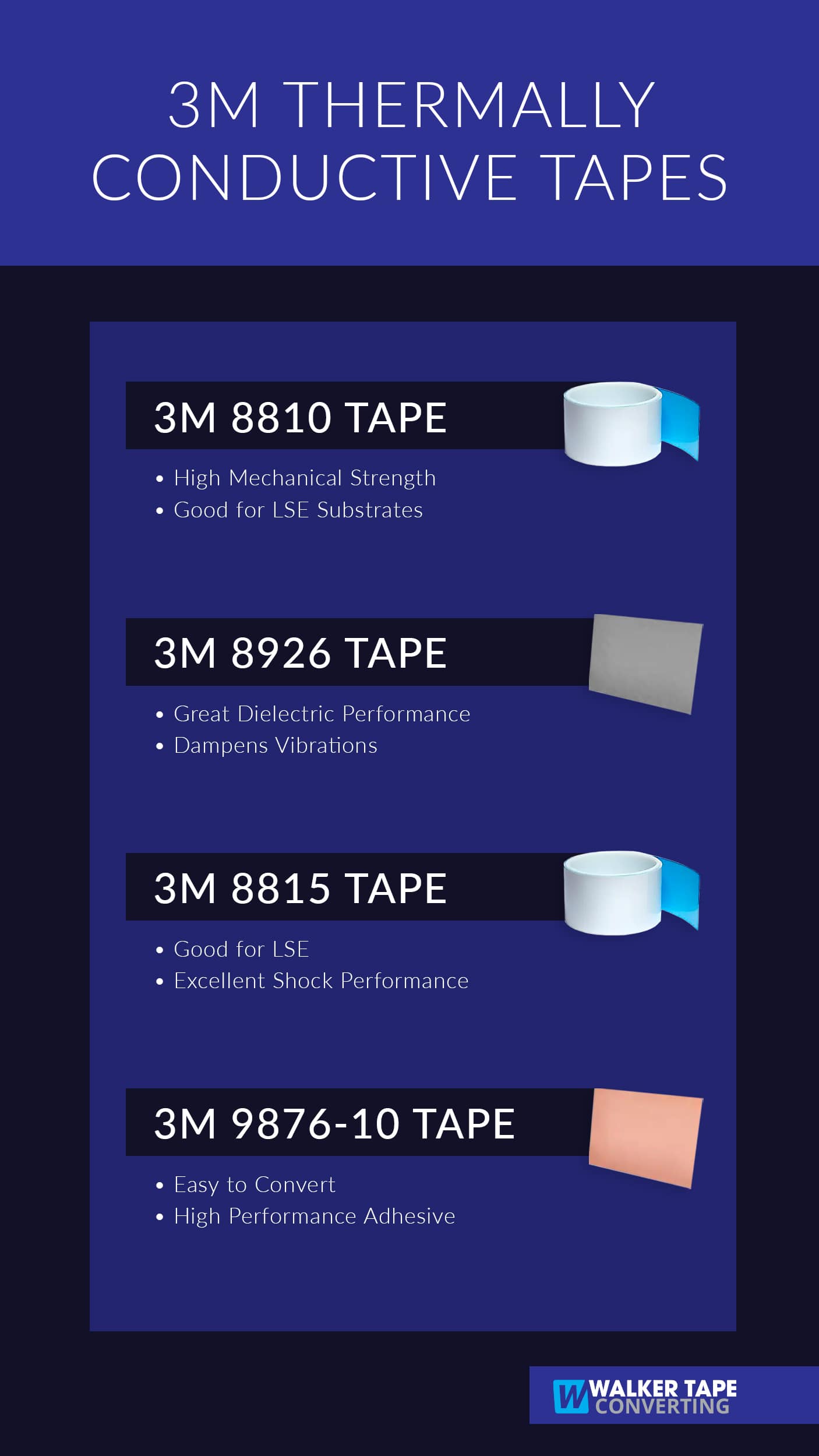 How Walker Tape Converting Can Help
So, now that you're more familiar with 3MTM's thermal management tape solutions, what do you do with this information?
You come to us, Walker Tape Converting!
As a tape converting company, we're here to help you sift through all the different tapes to find the one you need. Then we design the best way it should be cut and lined to suit your project. Finally, we convert it to fit your specifications, whether that's through die-cutting, slitting, relinering, or some other process!
If you're looking for a thermal management solution, reach out for a free consultation!
We can't wait to get you your perfect tape!