Any workspace in any industry can have slick or treacherous flooring. From manufacturing, to restaurants, to your average office space, it's likely that there is an area where people are prone to slipping. Of course, we all want to create safer and more comfortable work environments, so how do you combat unsafe flooring?
Tape is one of the best ways to create safe walkways. There are many kinds of tapes out there that are designed to create grip and be slip resistant.
But if there are so many of these tapes, which is the right one for you?
Help Keep Things Stable with 3M™ Safety-Walk™
When looking for a tape for creating safer walkways, you definitely have a lot of options. So, start by  narrowing down your search with a specific family of tapes.
The 3M™ Safety-Walk™ portfolio of tapes is a great example of this. Each tape in this family is made to create a safer environment for specific conditions. Let's talk about some of them!
Areas with a slip risk are something to be highlighted. That way, your employees and clients will know to be careful, even when the tape is there to help them. This is why the 600 Series in the 3M™ Safety-Walk™ family of tapes come in five different colors.
This series of tape is also great because it's designed for light to heavy foot traffic. So, it can be used just about anywhere.
It's also certified by the National Floor Safety Institute (NFSI) as being high traction. This means that you can feel confident it will help provide the safer workplace you're looking for.
Great areas for application:
Flat surfaces
Stairways
Entrances
Ramps
Ladders
Lawn equipment
Construction machinery and vehicles
Spas, swimming pools, and watercraft of any kind have a few things in common. The biggest one is water, which can, of course, make things very slippery.
They also have bare feet in common. Generally, people will not wear shoes while on or around these areas. So, rough, gripping tape isn't very comfortable on bare skin.
This is why 3M™ developed the 300 Series. This tape is soft textured, while still having a high friction surface that provides traction.
Great areas for application:
Locker rooms
Hot tubs and pools
Boats
Water ski
Exercise equipment
Irregular surfaces produce a different kind of challenge. Not only can they be slick but getting a slip-resistant tape to stick can be a problem. These tapes are often stiff due to their coating.
If you have an irregular surface that needs some care, the 500 series is a great way to go. It has an aluminum backing that allows for it to be more flexible and conforming. This backing also helps keep it from curling and peeling.
Much like the 600 series, it's also designed for heavy to light foot traffic. It can be used in any area and help provide good grip.
Great areas for application:
Stairs
Ladders
Loading ramps
Irregular surfaces
Flat surfaces with rivets or screws
There are some industries that really bang up their floors. Between heavy foot traffic with harsh boots and exposure to the elements, it can be hard to find a good traction tape that will last. If there is an area in your workplace that is especially busy, a heavy to light traffic tape may not be enough.
This is where the 700 Series can come in handy. The 700 Series is designed to be used in the roughest of conditions. It has extra-large mineral particles that give traction even when exposed to water and oil. Plus, the adhesive on this tape is strong enough to bind to just about any surface.
Great areas for application:
Construction vehicles
Ship decks
Trains
Oily and/or wet areas
Machine shops
Agriculture equipment
Recreational vehicles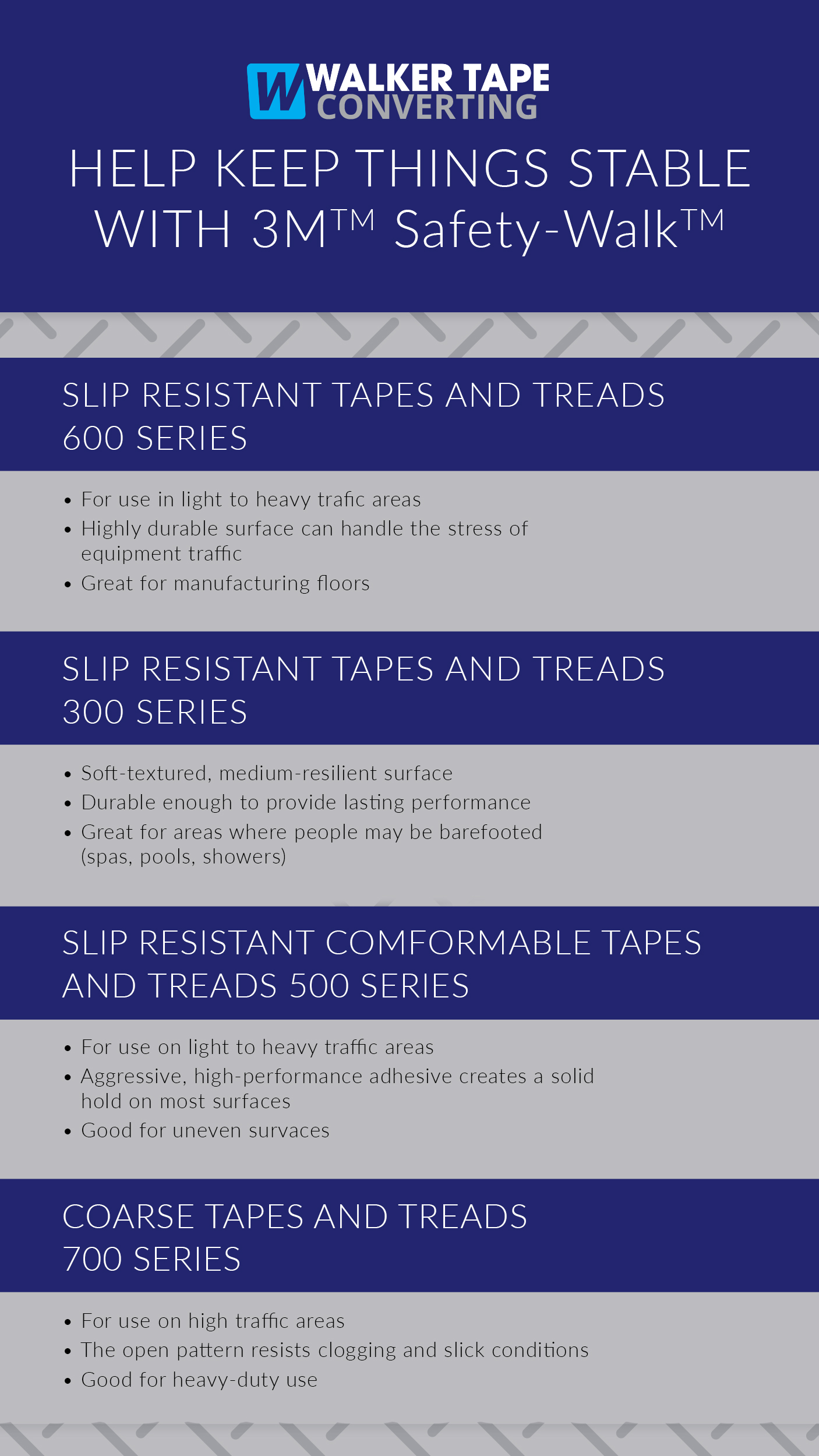 How Walker Tape Converting Can Help
We went over a lot of different tapes together. It can be overwhelming trying to decide on one (if you haven't already). That's why Walker Tape Converting is here.
When working with us, we'll help you choose which anti-slip tape is right for you. Together, we'll go over your needs and the kind of surface the tape will adhere to. Then we'll pick out the right tape together!
After that, we'll customize it for you. That's what we do as a converting company. We can use die-cutting and other capabilities to cut the tape to fit the space exactly. 
If you're interested in working with us, reach out today for a free consultation. We're excited to work with you and create your custom tape!