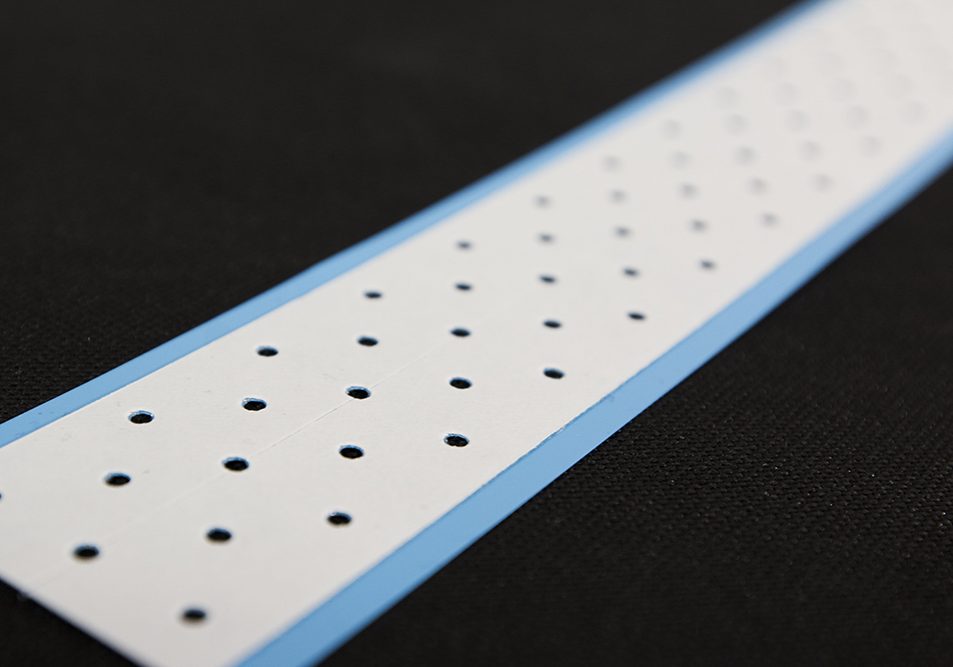 Die cutting is a process that is used in many industries. If you're a crafter, you may have even done it in your own home. At the most basic level, die cutting means using a pre-shaped piece to cut shapes out of a material. Die cutting your tapes is one of the easiest ways to customize them for your project and save yourself and your business time and money.
We have several different cut options (including various levels of kiss cutting) to meet your needs. Each of these options can be done on their own. We can also add any combination of these options on one die with different levels to create any type of custom tape and liner shapes needed for your application.
The die can cut all the way through the sheet, cutting the shapes out fully as individual pieces.
The die can cut through just the top liner and adhesive but not through the bottom liner. This can leave the tape cut into shapes but still on one sheet, or can leave the back liner longer than the tape to make the bottom liner easier to remove.
The die can cut through the top liner only but not through the adhesive or the bottom liner, making the top liner easier for end users to remove.
Perforations.
Below are a few examples of products we've created. This is just a small sample of what we're capable of.
This custom tape shape was cut out using a one level die that cut through both liners and the adhesive to create a basic shape.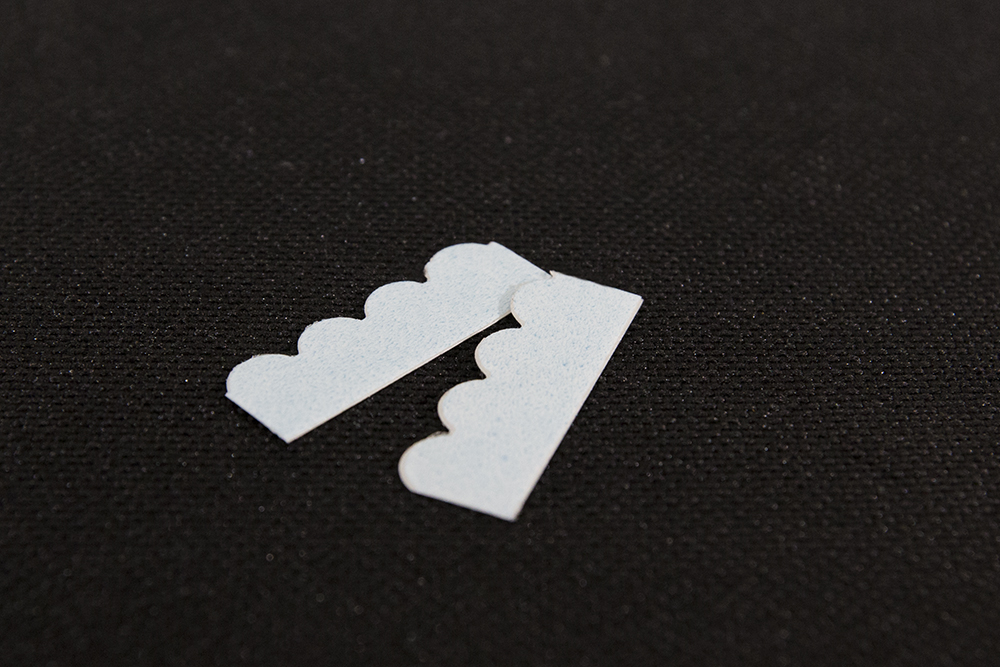 To create this sheet of tape we used a two level die. One level cut through both liners and the adhesive, the other level cut through just the top liner and the adhesive, creating a full sheet of cut tape shapes.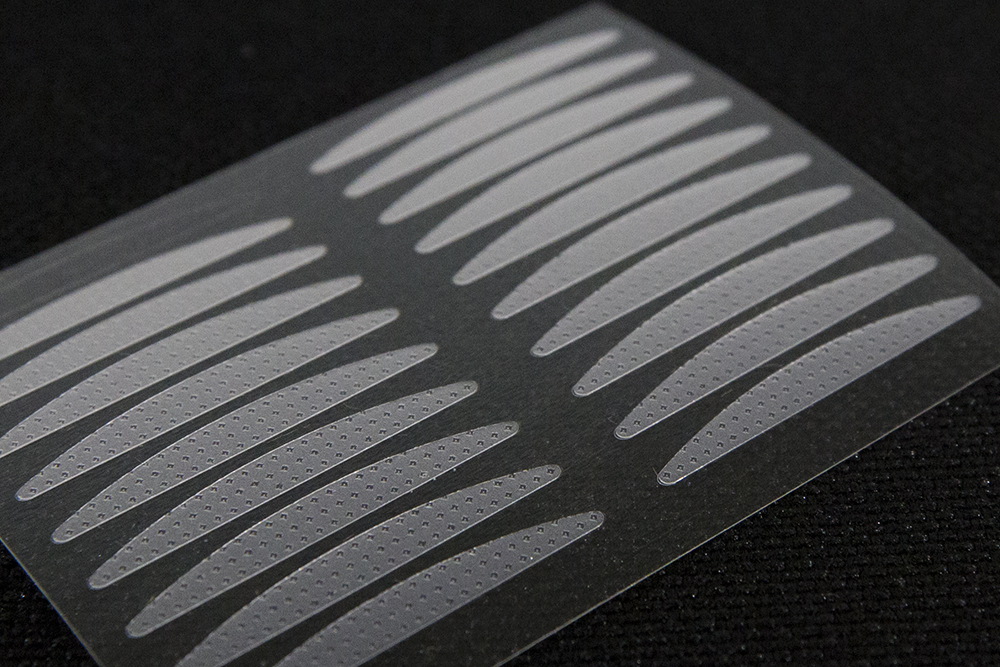 This sheet was created the same way, using a two level die. One level cut the rectangle out of a sheet of adhesive. The second level cut the shapes out of just the top liner and the adhesive.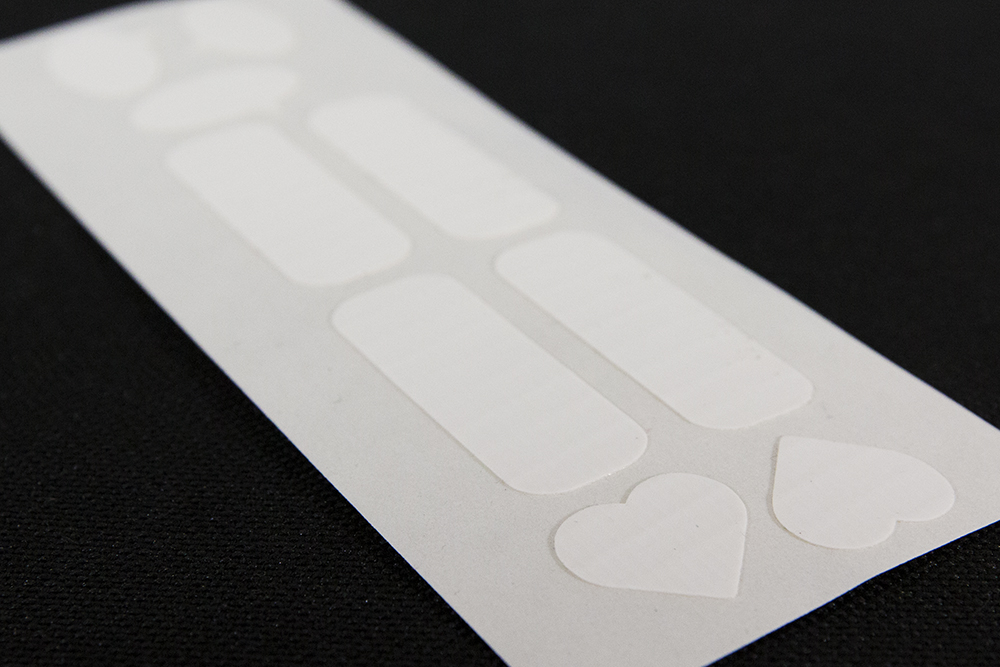 This is an example of a very unique two level die. One level cut through just the top liner to make it easier to peel which the second level actually cut the holes out through both liners and the adhesive.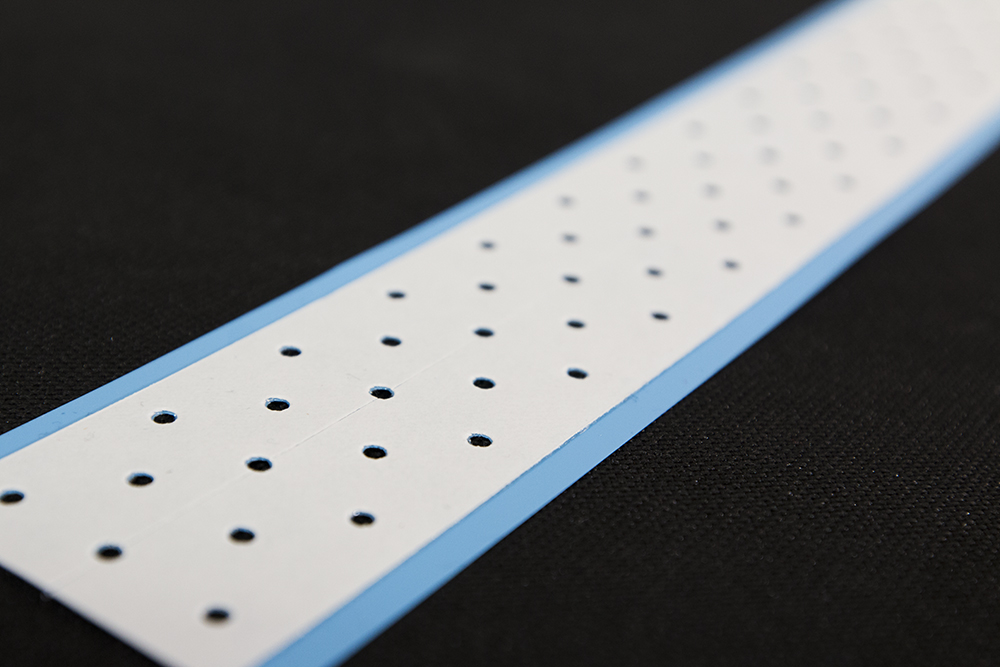 This sheet was created using a three level die. One level cut the triangle out of the full adhesive sheet. Another level cut through the top liner and the adhesive to create the circle shapes but leave them on the back liner. The third level cut through just the top liner to make it easier to peel.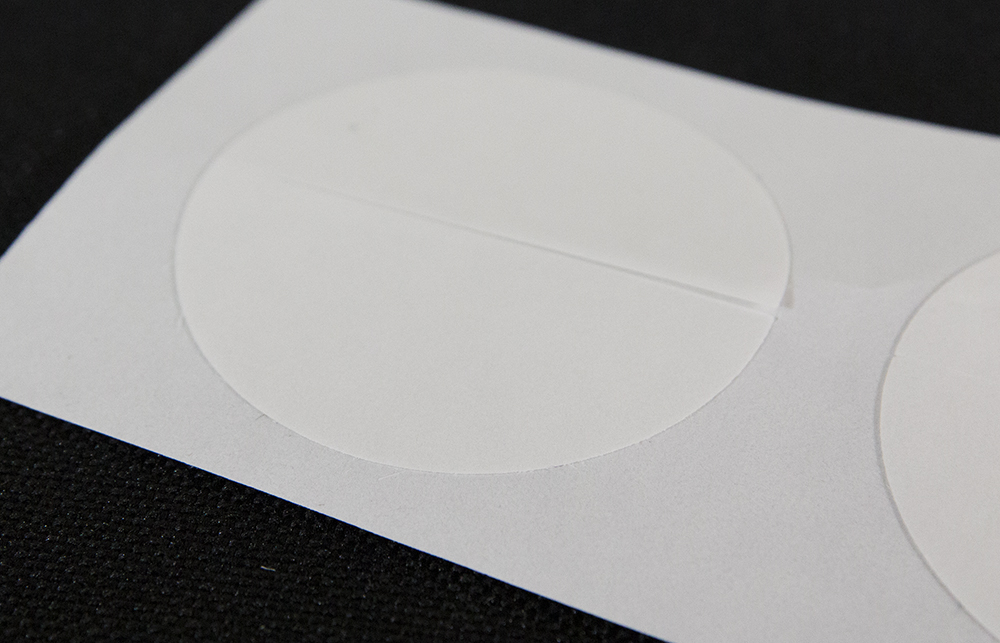 This is another example of a die that uses three levels. One level cut the full rectangle shape, a second level cut the top liner and the adhesive to create strips, and third level cut just the top liner to make it easier to remove.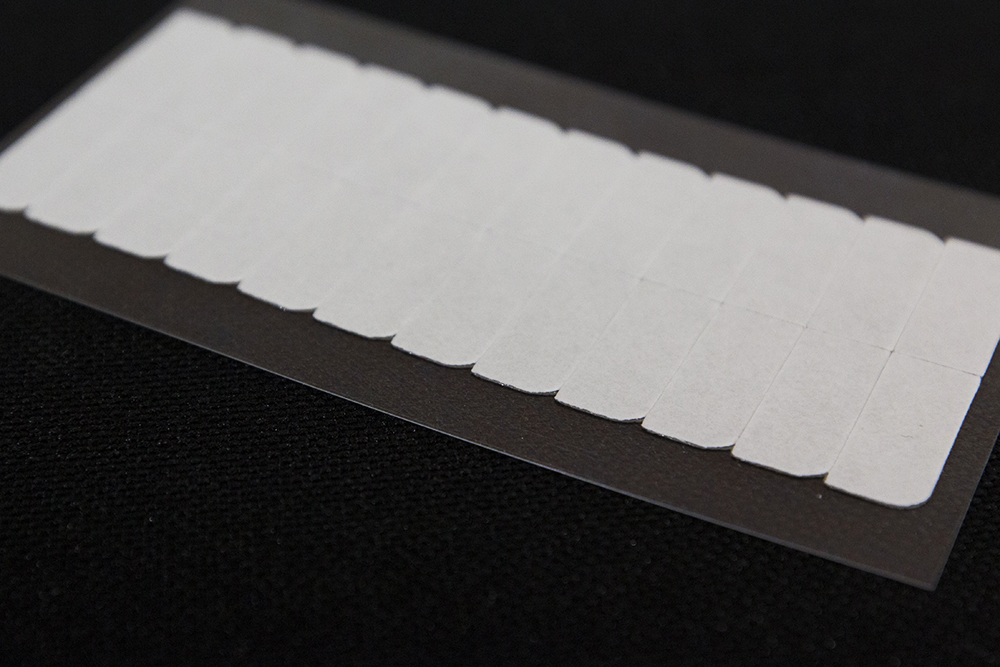 This is a unique tape that was designed to remove easily after use. After die cutting the tape, we added a tab to make it easy to pull up the adhesive after use. Tabbing is another way we can customize your tape and make it easier to use.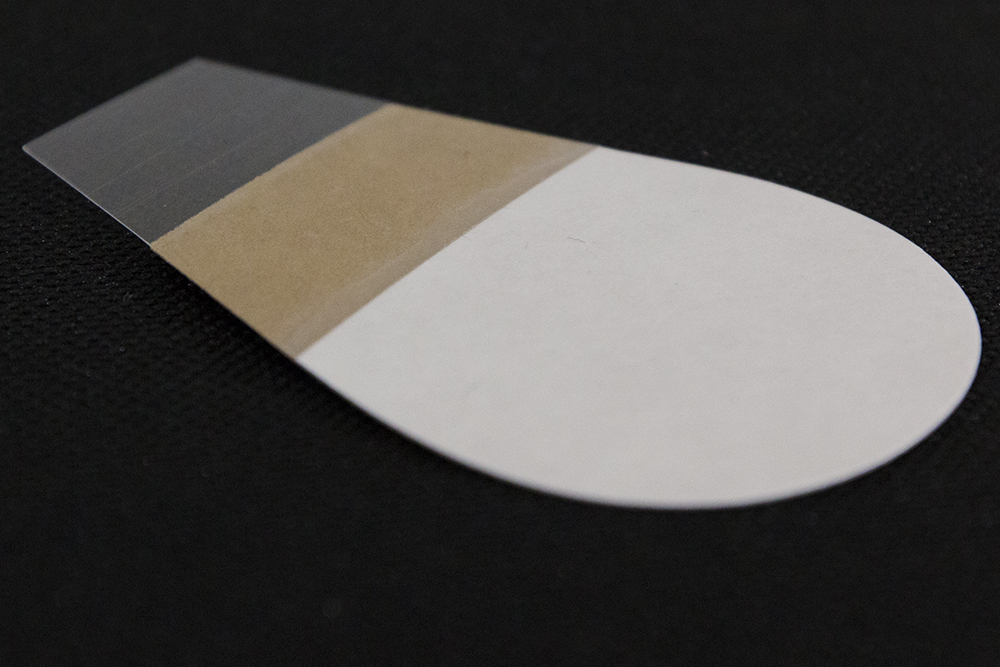 We also have sheeting capabilities. We can sheet anything from 1/2″ wide X 1/2″ long all the way up to 40″ wide x 200″ long. We can also leave custom impressions on a roll and not sheet them if that would be helpful for your production process.
Die cutting and sheeting are huge money and time savers. You'll see most of those savings in production and waste. When you come to us with a project, the first thing we do is dive deep into your application and production processes, finding how why and how you'll be using this custom tape product. That information helps us create the ideal product with maximum efficiency and low waste. With our vast experience, we're able to create a product that saves you money on raw materials and saves time in production. Because we get so in depth in the process to create the perfect custom tape for your application and processes, we're more than happy to sign NDA's or take any other steps required to help you feel comfortable through the process. Whether that's because you have a patent pending or simply want to be sure your information doesn't get to competitors, we're happy to take any precautions you deem necessary.
In case you're wondering whether using custom die cuts can really save you that much money, we have a couple of examples from previous clients.
Case Study #1 – An Application in the Medical Industry
A company came to us looking for a better way to produce their custom product. They were laminating seven different materials together by hand and then die cutting them manually, one at a time, into a finished custom shaped product. When they came to us, they saw initial savings in raw material costs. Through our large network we were able to find two materials that could be combined to produce the same results as the seven they were previously using. Our buying power allowed us to get the materials at a significantly lower cost than they were paying before. We were able to completely automate the process of laminating and die cutting all in one pass. Previously, they took five minutes to make one product. We were able to produce 250 products in the same five minutes. Our material knowledge, buying power, and automated processes saved them over $200,000 a year in labor, production, and waste costs.
Case Study #2 – An Industrial Application
A company came to us looking for a better option for their production process. They had been buying master rolls and hand measuring and cutting 60" sections. The material they were laminating the tape to was very sharp and often cut their production workers hands. We were able to create a soft, flexible material to laminate the tape to that maintained all of the qualities they needed for the application but was much safer for their production team to use. We were able to sheet it for them in-house with our machinery so they didn't have to cut and measure it by hand. This new process saves them about $300,000 per year in costs and labor. How's that for savings?!
After we've collected all of the information needed to develop your product, we can move on to creating the perfect shape for your die. We have a design team on site that can create your custom shape. You can also provide us with a prefabbed pattern if you have one. We will then have your die custom made to maximize the footprint of the custom tape shape on a sheet or roll. Getting the most possible out of the raw materials minimizes waste and saves you money. You will be charged for the initial die to be made. There are several different types of dies that vary in price. Factors impacting the cost of your die include the type of die you use (listed below), how many levels are included on the die (discussed previously), and how many impressions are on the die.
Steel Rule Dies: are the least expensive, averaging between $300-$400. However, they're not very efficient. They punch out only one shape at a time. These dies are good for small, minimum orders, but will cost you more money on labor in the long run.
Rotary Dies: These are traditionally what we use. There are a couple types we generally use.
Magnetic: The least expensive rotary die. A one level die on average will cost around $200. A two level will cost around $500-$600 on average.
Standard: These will last the longest and create the most efficiency during our production processes. One level will cost on average $600-$800. Two level will cost around $1300.
Depending on order volumes and potential, we quite often help with the die costs to get you started. Unlike most companies, we actually pay for maintenance of your die including cleaning and sharpening. We also pay for replacements dies when they wear out. After the initial cost of the die, you won't have to think about or pay for your die ever again, unless your product changes.
Another factor you'll want to consider when starting your custom tape project is minimum order quantities. At Walker, our minimums depend on whether or not we have the raw materials for your project in house. We always try our in-house materials first because that will save you the most time and money, while keeping your minimum as low as possible. For these types of projects minimums can be as low as a few thousands pieces or around $2000. If we need to source custom materials, your minimum will depend on what we can work out with our suppliers. Some materials can only be brought in as large master rolls, meaning that our cost is much higher to bring them in. For those products, the minimum will be higher to ensure that we are not sitting on product that is only used for your specific project. Luckily, we are very good as sourcing raw materials at our own costs which are much lower than most, if not all, of our competitors. We also offer free samples for you to test. We want to be sure that you have a chance to see the product in action before you pay for a large quantity to be made. We want to be sure that you are one hundred percent confident in us and in your custom product. Building your confidence is important to us. We want you to know that we have your best interests at heart. We want your product to be a success. We don't see your project as just another order. If your products don't succeed, we don't succeed. So you can be sure that we're doing everything we can to give you the best products at the absolute best prices.
Whether or not we have raw materials in house for your project will also determine turn around times. If we do have the materials in house we can have a finished product done as early as 3-4 weeks, as long as we receive all of the information we need from you in a timely manner. Each project is so unique in discovery and sourcing that it could take longer. If it does, we will be sure to maintain one hundred percent transparency so you're informed about where we're at every step of the way. We have excellent resources all over the world meaning we most often find a solution very quickly. However, there are those projects that are so unique that they take a little longer. The average time from first contact to getting a sample in your hands for confirmation is about three weeks.
Even if it's not a custom die cut product you're looking for, we are always willing to look at your production process and maximize efficiencies in any way we can. Often times there is some sort of tape customization that can help you. We've helped companies save tens of thousands of dollars a year in labor costs just by creating a 1/8th inch tab on their tape rolls to make it easier to peel the liner. We helped one company save over $300,000 a year in labor costs by cutting their large tape rolls into sheets using our automated processes and saving them from cutting them by hand. No matter how you're using tape in your business, we would love to help you!
You can contact us with questions at any time on our 'Ask an Expert' page here. If you'd like to receive a free custom quote, you can request one here.