Window Glazing & the Perks of Using Foam Tape
Anyone who knows anything about window glazing will tell you that the adhesive used can make all the difference. If it isn't strong enough, it can lead to all kinds of problems, from water getting in, to warm air getting out.
So, why would a contractor want to use foam tape when window glazing?
There are all kinds of benefits to using foam tape as your window glazing adhesive. We are going to take you through exactly what makes it so perfect for this application.
What Is Window Glazing?
But before we get too ahead of ourselves, let's make sure that we're all on the same page. Here's a quick overview of what window glazing actually is.
The word "glazing"comes from a Middle English word meaning glass. When you talk about a window's glazing, you're essentially talking about the glass part of the window.
But the term glazing can also talk about products that are used to install the window. It usually involves things like glazing putty, but it can also refer to tape.
What Is Dry Glazing? 
If you want to get more specific while talking about window glazing, you'll need to know the term "dry glazing." This is referring to glazing that uses dry adhesives, like tapes.
It actually points out one of the main benefits of using foam tapes for glazing. The adhesive is dry instead of wet, like a putty would be.
When working with wet adhesive, you have to wait for it to dry before you're able to see any results. Tape doesn't have to dry since the liquid adhesive used to make it has already been cured.This allows you to get immediate results with dry glazing.
The Benefits of Window Glazing with tesa® Tape Products
It's not hard to see why people may prefer dry glazing for their project's needs, but what makes tesa® Tape the perfect choice for this application?
One of the biggest reasons is that tesa is a leading tape manufacturer worldwide. They have the capability and cutting edge facilities to create consistently high-quality tape. This means that you'll get consistently high-quality results with your window glazing applications.
On top of that, tesa offers several different kinds of tape that have been designed with this application in mind. This ensures that you'll find the perfect adhesive for your next  window glazing project.
Foam Tape Products for Various Window Glazing Materials
Your adhesive needs may change depending on the project. Since each building or construction project tends to differ and have their own style, there might be different materials used in the frame. Each material has its pros and cons that go way beyond looks.
Wooden frames
These frames tend to be the simplest. This means that there is less material needed for the frame. It also means that the frame is much slimmer and more lightweight than many other frame types.
Aluminum frames
Aluminum frames sit flush against the window, giving it the slimmest design. Aluminum frames also offer better insulation than most other frame types. You can find these kinds of window frames on most residential and commercial buildings.
PVC frames
If you're looking for a window frame that doesn't need much maintenance, PVC frames are a good way to go. They open and close easily, causing less wear and tear over time. They're a good choice for larger windows and have better burglary resistance.
Now that you have a better idea of the frame you may want, let's talk about the adhesives that work with them!
tesa® 62936
As mentioned, tesa gives you a few different options for dry glazing. One of the main ones is tesa® 62936.
tesa® 62936 is a double-sided PE foam tape, made from an acrylic adhesive. It offers a really incredible immediate bond with most surfaces.
One of the biggest benefits of this tape is the fact that it is good for thermal expansion. Most window frame materials will expand or contract depending on the weather. This fluctuation in weather can cause problems between the seal and the glass. With tesa® 62936, this isn't a problem. The tape can adapt to what the window needs, making it a perfect choice for window glazing.
You can order this tape in either black or white foam to best match the look of your project.
tesa® 64956
Another great tape for window glazing is tesa® 64956.
This tape is a double-sided PE foam tape that has been made from a synthetic rubber adhesive.
The best part about tesa® 64956 tape is the fact that it has amazing immediate bond strength. In fact, it's a great option for low surface energy substrates. Even if initially the material used in the window frame doesn't seem like it would be a great fit with tape, it will likely work with tesa® 64956 due to its adhesive construction.
Like tesa® 62936, tesa® 64956 comes in black and white. That way you can be sure that it matches the look you're going for.
Structural Glazing with tesa® ACX
plus 
These days, glazing doesn't just apply to windows. There are many buildings throughout every city that are seemingly made entirely from glass. How do you glaze that glass? How do you keep the construction from falling apart?
It stays together through a process called structural glazing. This is a kind of glazing where dry adhesive is definitely the way to go. More specifically, working with tesa® ACXplus is the perfect choice.
tesa® ACX plus provides you with a couple of different options on how to do the glazing. You can do two-sided and four-sided.
Two-sided includes two pieces of glass fastened on opposite sides to a frame. It is fixed partially with tape and partially with mechanical fasteners. This provides high mechanical safety.
Four-sided provides a frameless look. All sides of the glass are bonded to the frame with tesa® ACX plus in a workshop. This system provides a cleaner look and can be just as secure as two-sided glazing.
No matter which system you choose, tesa® ACX plus is the perfect choice. It is designed to withstand all kinds of stress that glass and frames may experience over their lifetime. It achieves this strength immediately, unlike liquid adhesives that could take anywhere from seconds to hours.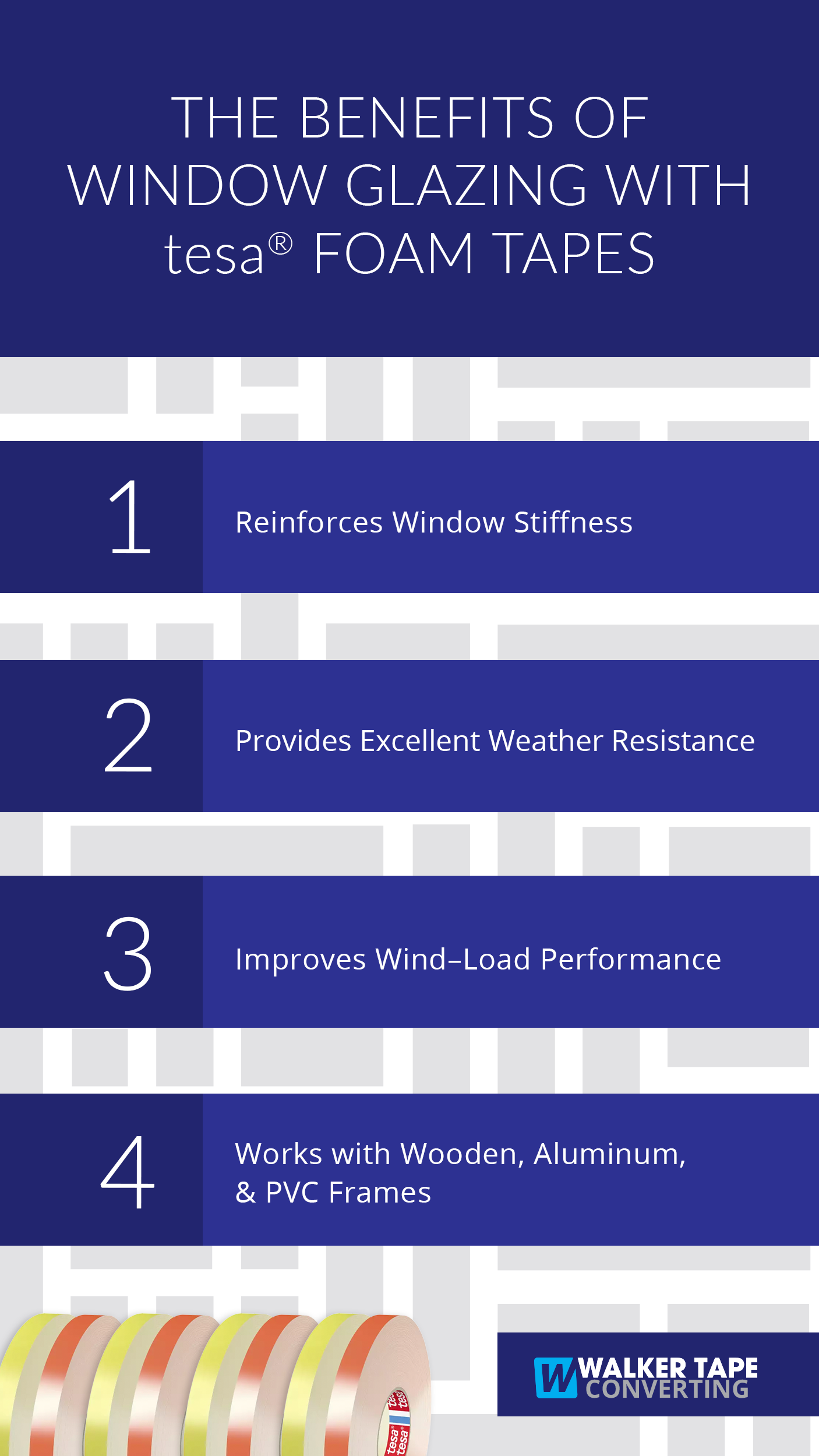 There is so much to be said about dry glazing for windows. It's clear that working with tesa® tape for your glazing projects is an incredibly beneficial way to go for your next window glazing application.