tesa® 51966: A Great General-Purpose Acrylic Tape for Low Surface Energy Foam & Plastics Bonding
tesa® 51966 is a double-sided tape with a highly tackified acrylic adhesive on a polyester carrier. With the specs out of the way for now, let's unpack what that actually means.
Its highly tackified acrylic adhesive gives the tape good quick-stick performance. By quick stick, we mean tesa® 51966 offers a combination of high tack and high adhesion. These words are often used interchangeably. But in the tape world, they mean different things:
Tack is a tape's ability to grip to a surface before any pressure's been applied. You can think of it as a tape's immediate gripping ability.

Adhesion is the strength of a tape's bond to a surface that builds once pressure is applied. At first, a tape can feel less "tacky" to the touch, but over time, its adhesion builds into a strong, permanent hold.
So, the quick-stick traits of tesa® 51966 make it perfect for your applications that call for faster production rates that may depend on immediate use. The tackified acrylic adhesive offers you strong enough results that you can depend on the bond strength right after application, in combination with a high ageing resistance compared to other types of LSE-adhesives.
There are also at least two more benefits that make tesa® 51966 deserving of much more attention than it currently receives. First, is its general-purpose affordability. You can bond to a wide range of materials and save money with its budget-friendly price.
Its low price point is even more impressive when we consider its performance capabilities. In contrast to an acrylic tape in general, tesa® 51966 can handle permanent bonds to some of the most challenging surfaces. These include low surface energy (LSE) foams, LSE plastics, and dissimilar materials. When surfaces are LSE, it means that they are hard to bond to. 
Below are a few example applications showcasing tesa 51966's ability to bond to materials that many other tapes struggle with.
A Tape for Bonding to Polyethylene (PE) Foam
Applications across various markets have discovered the benefits of PE foam. It gives products capabilities such as shock absorption, vibration damping, insulation, water resistance, buoyancy, and flexibility. As companies turn to bonding PE foam to their applications, they're seeing their product's durability be enhanced. 
However, they're also discovering something else out along the way. PE foam is a tricky material to stick to. Polyethylene itself is an LSE plastic, but as a foam, it becomes even more challenging to bond to due to foam's porous texture.
Luckily for most industries out there, tesa® 51966 holds permanently to PE foam at an attractive price.
A Tape for Bonding to EVA Foam
Speaking of industries being fortunate, tesa® 51966 also holds permanently to ethylene-vinyl acetate (EVA) foam. While the technical foam name can be a mouthful, it's often simply referred to as foam rubber. Like PE foam, EVA foam is used across most markets for its shock absorption and buoyancy.
In the clothing industry, you find EVA foams commonly in a variety of shoes and sandals. Sports equipment makes sturdy use of its impact resistance and floating abilities in following ways:
Ski boots

Bicycle saddles

Hockey pads

Boxing and mixed martial arts (MMA) gloves and helmets

Fishing rod handles

Floating eyewear
The list goes on and on. EVA foams have found their usefulness from creating decorative spaces with artificial flowers to solar panels in the energy sector.
If you regularly work with bonding EVA foams, ask us for a free sample of tesa® 51966.
A Tape for Bonding to LSE Plastics
We'd be surprised to hear of an industry that doesn't use LSE plastics in some way or another. They're everywhere. Part of the reason is that they tend to be easily customizable, lightweight, and durable. Not to mention they're readily affordable.
The perks of choosing LSE plastics come with a bonding challenge though. Historically, companies have had to spend time and energy researching and testing different bonding solutions to stick to these plastics. 
But with tesa® 51966, you can match your attractively priced LSE plastics with a tape that's also affordable.
A Tape for Bonding to Dissimilar Materials
To recap, the materials that tesa® 51966 sticks to are found across various applications from sports equipment to solar panels.  Such varied projects often call for a tape that can bond a wide range of different materials together. 
For example, you may need a solution that permanently bonds PE foam to aluminum. tesa® 51966's ability to bond these dissimilar surfaces together give it versatility as a general-purpose solution. Such versatility and affordability make it a tape worth considering.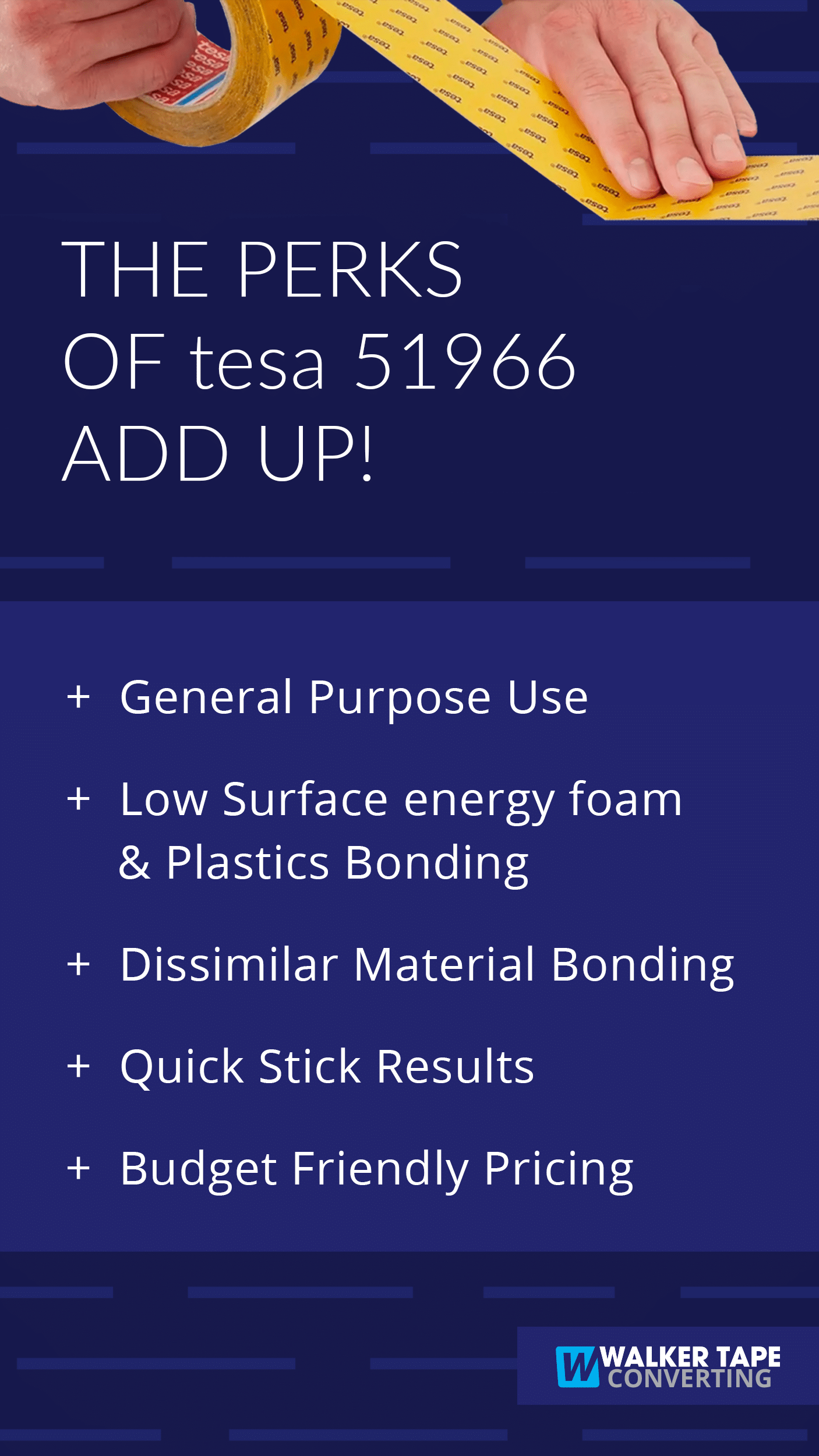 Consider tesa® 51966 today by asking us for a free quote request. We can get samples to you quickly and easily. We're excited to help you save money with tesa® 51966!