tesa® 88225: Low Surface Energy Transfer Tape
Made in the US at tesa's state-of-the-art plant in Sparta, Michigan, tesa® 88225 is a must for hard-to-bond materials. It consists of a transparent, water-based acrylic adhesive that tesa designed to both conform well and bond to challenging applications. Below, we dive more into the details of these strengths, as well as the added benefits of going with the thicker tesa® 88250.
Plus, being transfer tapes, tesa® 88225 and 88250 offer you the most customizable versatility for the best possible price.
Adhesive: Water-based acrylic

Adhesive thickness: 2.48 mil 

Adhesive color: Transparent

Backing/carrier: None

Liner: Poly-coated paper

Liner thickness: 4.17 mils

Liner Weight: 98 g/m²

Liner color: White/blue logo

Bond substrates: High to low surface energy plastics, rubber, and metals

Temperature resistance: -40°F to 356°F

Adhesion to glass after 72 hours: 82.22 oz/in

Adhesion to polycarbonate after 72 hours: 82.22 oz/in

Adhesion to polyethylene after 72 hours: 27.4 oz/in

Adhesion to steel after 72 hours: 91.36 oz/in

Initial adhesion to steel: 54.81 oz/in

Suitable for die-cutting: Yes

Suitable for rough surfaces: Yes

High tack

Excellent conformability

Qualifies for NAFTA (made in the USA)
Performance Benefits of tesa® 88225
Low Surface Energy Capabilities

Conformability

More Environmentally Conscious Production Process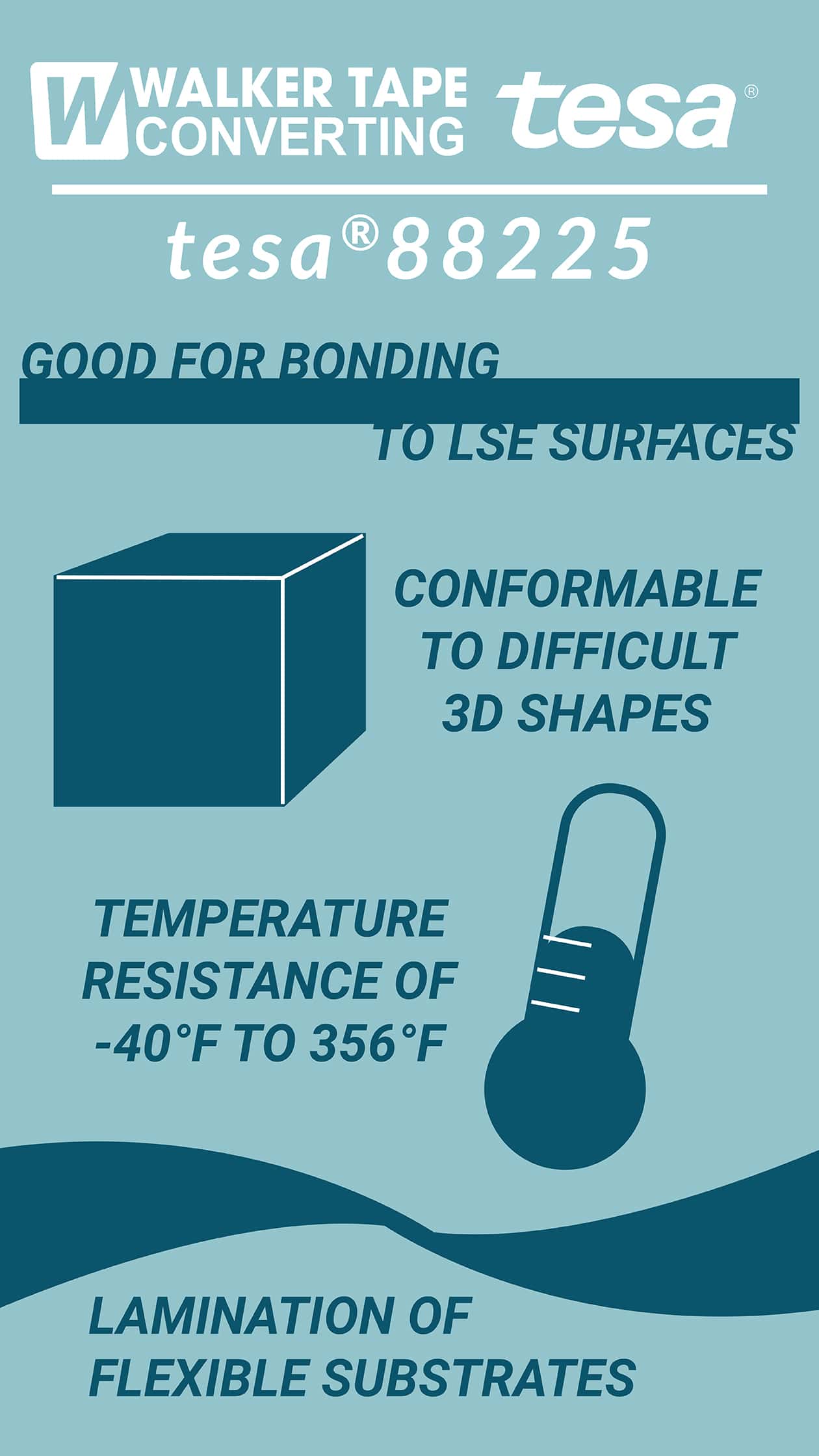 Low Surface Energy (LSE) Capabilities
tesa® 88225 is the latest step forward among the various recent breakthroughs in LSE adhesive technologies. In the past, if you needed to bond to an LSE plastic, for example, you really only had two options: solvent-welding and mechanical fastening. Choosing the welding option required you to work with hazardous solvents. Going with mechanical fasteners left your application exposed to the weaknesses that mechanical fasteners have. 
There just weren't adhesives at the time that could hold well to LSE substrates. However, fast-forwarding to where we are now with such options as tesa® 88225, we can avoid the hazardous solvents and compromising fasteners, and we can get a reliable hold to our LSE materials. 
For instance, tesa® 88225 achieves a good bond to rubber, PVC, polyethylene (PE), polypropylene (PP), polystyrene (PS), among other materials with challenging surfaces. Also, keep in mind, we're only focusing on LSE options here. tesa® 88225 achieves an excellent bond to high surface energy (HSE) objects as well. This wide range gives you a lot of leeway when needing a solution for bonding dissimilar surfaces together.
tesa® 88225 adhesive transfer tape is also incredibly conformable. So, it meets the challenge of complicated shapes too, conforming well to difficult 3D objects. If you need a trustworthy hold along curves, corners, or tight angles, tesa® 88225 works great.
More Environmentally Conscious Production Process
Put simply, tesa® 88225 is better for the environment than a lot of other choices out there due to its water-based acrylic properties. This fact is one of its standout benefits. Explaining why the water-based properties are better requires a bit of chemistry.
During production, adhesives are generally made by using a cocktail of solvents. As the solvents evaporate, the adhesive hardens. This hardening turns the adhesive into more of a solid substance on tape. During application, those solvents continue to evaporate, hardening the adhesive into a permanent bond. 
Here's the issue: the solvents evaporate as compounds released into our environment. 
When solvents release these compounds, it's known as off-gassing. The compounds they release are volatile organic compounds (VOC). At every step of production, from manufacture to application, solvent-based adhesives off-gas VOCs into the environments of workers and end users and must be federally regulated. 
While several VOCs are odorless, when off-gassing occurs, it creates that "new" smell that we often associate with cars, carpets, mattresses, furniture, electronics, etc. That new smell is actually us breathing in the off-gassing of VOCs.
To reduce emissions of VOCs into the environment, tesa has upgraded its plant to include water-based production of tesa® 88225 and various other more eco-conscious adhesives. Using water as the base instead of solvents, tesa's production facility and products emit far fewer VOCs.
Going with water-based adhesive technology such as tesa® 88225 is a more eco-conscious choice for your production employees, customers, and community.
Main Applications: Laminating flexible substrates
Noise, vibration, harshness (NVH) and buzz, squeak, rattle (BSR) materials

Rubber materials for gaskets 

Plastics or vinyl for labels, decals, and tags 

Decorative fabrics
Performance Benefits of tesa® 88250
Same feature as above except the following

Adhesive thickness: 4.99 mil 

Adhesion to glass after 72 hours: 100.49 oz/in

Adhesion to polycarbonate (PC) after 72 hours: 109.63 oz/in

Adhesion to polyethylene (PE) after 72 hours: 45.68 oz/in

Even more suitable for rough surfaces
Increased bonding Strength
Luckily, the added benefits of choosing tesa® 88250 require zero chemistry sidebars. Generally speaking, the more adhesive there is to bond to a surface, the stronger that bond is going to be. It's that simple: tesa® 88250 has twice as much adhesive to work with.
Rough Surface Capabilities
If you look at rough surfaces under a microscope, quite the impressive geography of peaks and canyons begin to show. Since tesa® 88250 has twice the adhesive, it's even easier for the extra adhesive to fill those gaps and thereby increase the bonded surface area.
What is surface energy?

Energy of an object's surface molecules. Surface energy determines the molecular attraction between materials. A higher surface energy means a stronger attraction. Lower surface energy means weaker attraction, and therefore, harder to stick to. 

What is transfer tape?

It's an adhesive layer without a backing or carrier. Everyday tapes have backings. For example, cloth tape has an adhesive layer coated to a cloth backing. Imagine removing everything but your tape's adhesive layer, and that's basically a transfer adhesive.

How do I use transfer tape?

Check out

our blog about their versatility

. Really, how you use transfer tape is up to you and your project needs.
What is transfer tape also known as in the converting world? Booger tape, no kidding. Without the structural support of a backing, it's simply a very thin layer of adhesive. So, if you peel some off the liner by hand (not recommended), it balls up into tiny, sticky beads. 
So, where can you buy these transfer tapes and have them custom converted for your project? Right here at Walker Tape Converting. Add tesa® 88225 and 88250 to a free quote request today.