How to Switch Adhesive Tape Converters in 3 Steps
You've spotted red flags and need to switch adhesive tape converters. What's next? 
Shop around (specifically with your application in mind).

Quote apples to apples.

Set the bar at 'pleasant experience.'
Recently, we dove into detail about various red flags to look out for in the converting world. Being able to spot these red flags allows you to more confidently navigate an at-times dizzying industry. And knowing what to look for and what to watch out for ultimately helps you find a reliable converter that's right for you. 
Consider this blog post the sequel to our red flags piece. Afterall, the story doesn't end on the realization that your adhesive tape supplier is taking advantage of you. It's the beginning of a new story. For whatever reason, your current tape converter isn't working out, and you need a new supplier. The following expands on the above three steps to help make the needed transition a good experience. 
(Disclaimers: It's worth noting a clear bias here. We're a converter writing a blog to help you switch converters. Yet here, our goal isn't to convince you to switch to us. If you're completely happy with your current converter, stay with them. They've clearly earned your trust with great service. 
While we're always a great choice for you to consider, we'd rather this blog be as helpful to you as possible. Occasionally, that may mean that another converter could in fact be a better choice for your specific application. As our leading expert, Ryan Wismar, has said before, "we don't want to sell to you if we can't help you.")
Step 1) Shop around for the right converter for your project.
While this step seems obvious, when under the pressure of production deadlines, we often sacrifice quality for the sake of expediency. If we rush into a new contract, it's more likely we could end up with a rebound converter and a whole new set of red flags. 
And as you research reputable converters out there, make sure to do so with your specific application in mind. For example, you may find a great company that's been in the game for years . . . yet in the automotive industry, which has nothing to do with your project. Even though they may very well be at the top of their game in a couple of industries, make sure to gage how familiar they are with your industry. Shopping around with a focus on your industry may help you discover a lesser-known albeit reliable converter that offers you the best value on exactly what you need.
The takeaway: get to know how familiar a converter is with the processes your project calls for.
Step 2) Quote apples to apples.
Basically, it's best to always compare like elements to like elements across the board. One adhesive tape supplier may look like the better choice because material costs are lower than another. But what if that tape supplier only can offer the roll while you need that roll die-cut to custom dimensions? If you need more services than just materials, make sure to look for and compare those capabilities. 
How do they compare on tooling costs, setup/cleanup fees, and lead times? Maybe a converter has great prices, yet you discover too far along in the process that their minimum order quantities are set higher than make fiscal sense for your budget. 
Rule of thumb: One great price point doesn't make the quote the best value. 
Step 3) Expect a pleasant experience.
Transitions are tough (anyone do a software update recently?). A lot of things can go wrong. As converters, we know how difficult it can be to change the way you do business, and our true colors show in how willing we are to help you make the move. 
Basically, when you switch adhesive tape converters, you're getting a good first impression of how easy they are to work with. And it's a step in the right direction if a converter helps make the transition pleasant for you. In fact, you should pay close attention to how easy they are to work with. Afterall, if they're a hassle during transition, in what other ways are they going to be a hassle to deal with? 
The bottom line with your new supplier: it should be a pleasant experience to switch adhesive tape converters.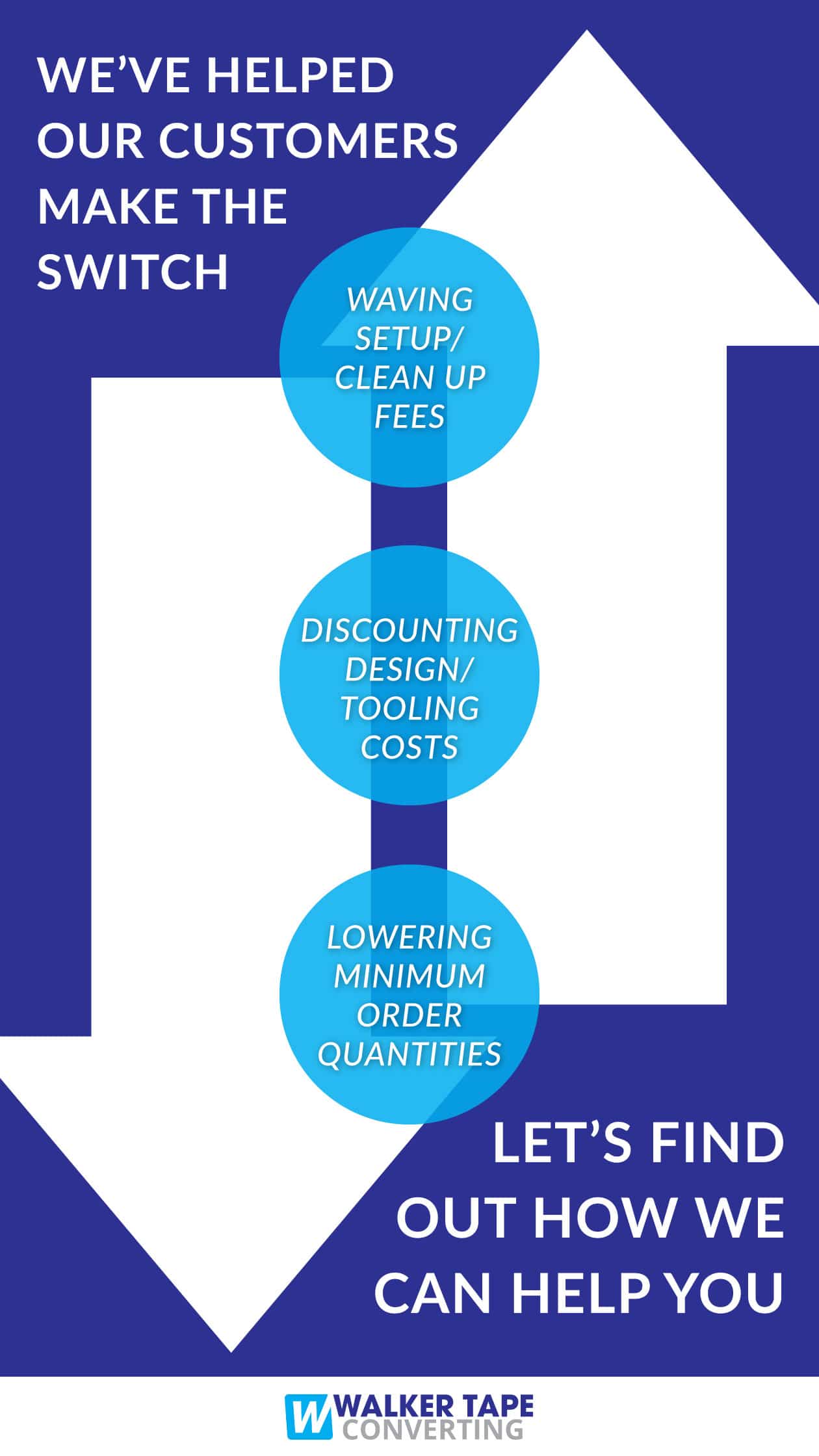 Keep enjoying our resources!