3M™ High-Strength Acrylic Adhesive 300LSE
3M's lead adhesive family for low surface energy (LSE) and challenging surfaces is their 300LSE line. 
By LSE, we simply mean to say materials that are usually hard to bond to. For example, there are many LSE plastics being made today that are more customizable and affordable than ever. These plastics support several opportunities for businesses across various markets, but they also tend to be a challenge to bond to. A couple example plastics include polypropylene and polyethylene. 
But with the 3M™ 300LSE adhesive family, you have outstanding tape solutions for these LSE plastics. Plus, the fantastic bond performance of this adhesive also works great on coated materials. Examples of these include powder-coated and painted surfaces, nylon-coated aluminum, coated polycarbonate, lightly oiled metals, and other challenging surfaces. 
So, 3M™ tapes using 300LSE adhesives offer your business the chance to replace labor-intensive mechanical fasteners with a better-performing tape solution.
In addition to offering a high-strength bond to LSE materials, the 300LSE adhesive family also comes with these performance strengths:
High initial bond for immediate usability

Good chemical and humidity resistance

-40°F to 300°F short-term temperature resistance

Anti-lifting performance on flat and curved surfaces

No Primer Needed

Wide array of dissimilar material bonding: 

Metal to plastic

Chrome to plastic

Rubber to plastic

Plastic to plastic

Graphic overlays to plastic
Conveniently add 3M™ tapes featuring 300LSE adhesive to a free quote!
Let's take a brief look at specific ways 3M's 300LSE adhesive family makes innovative solutions possible in different industries.
The Benefits of Using 3M™ 300LSE in the Medical Sector
It's hardly a surprise that 3M's 300LSE adhesive family supports creative advances in medical markets. 3M has more than 55 years of experience supplying medical adhesives and is one of the top 20 companies providing healthcare products. 
Case in point, 3M is a household name in the medical field.
Two examples where 300LSE adhesive particularly shine include medical equipment manufacturing and attaching graphic overlays. 
Medical Application Examples
First, let's touch on medical equipment manufacturing. 
Medical equipment ranges from wearable devices all the way to the lifesaving machines monitoring patients in hospitals. Wearable devices alone are projected to be a $24 billion industry in the next year or so. 3M's 300LSE acrylic adhesive supports this market growth by making it easier than ever to manufacture the products. 
This tape, thanks to its 300LSE acrylic adhesive, offers a permanent bond between LSE plastic and powder-coated metal. These two materials are commonly used to build the machines in hospitals across the globe. Additionally, using this 93020LE allows manufacturers to save time and money on production by replacing mechanical fasteners. 
Another example of using 300LSE acrylic adhesive in the medical industry includes attaching graphic overlays. These materials cover display panels and user interfaces on all kinds of medical devices. 
This transfer tape is ideal for attaching graphic overlays. At only 2 mils (thousands of an inch) thick, it has a very thin profile needed for the overlays. Thanks to its 300LSE acrylic adhesive, it also offers premium performance that is critical for machines monitoring patients' health.
Using 3M™ 300LSE Across Markets from Automotive and Appliances to Electronics
The performance benefits of 3M's 300LSE adhesive family extends across several industries.
For instance, the adhesive family's ability to bond different materials together make it a great choice for designing automotive interiors. 
The 300LSE adhesive family's ability to bond metals to LSE plastics open up all kinds of manufacturing possibilities in the appliances industry. 
Then, of course, there's also the consumer electronics market. In addition to above-mentioned wearable devices applications, 300LSE can support smartphone and virtual reality (VR) headset manufacturing. 
Due to the 300LSE high-strength bond performance and anti-lifting traits, you have a bonding solution for curves and other challenging shapes.
Keep in mind, these are just a handful of potential applications that barely scratch the surface of what this high-performing acrylic adhesive is capable of. Could these strengths be useful to your project?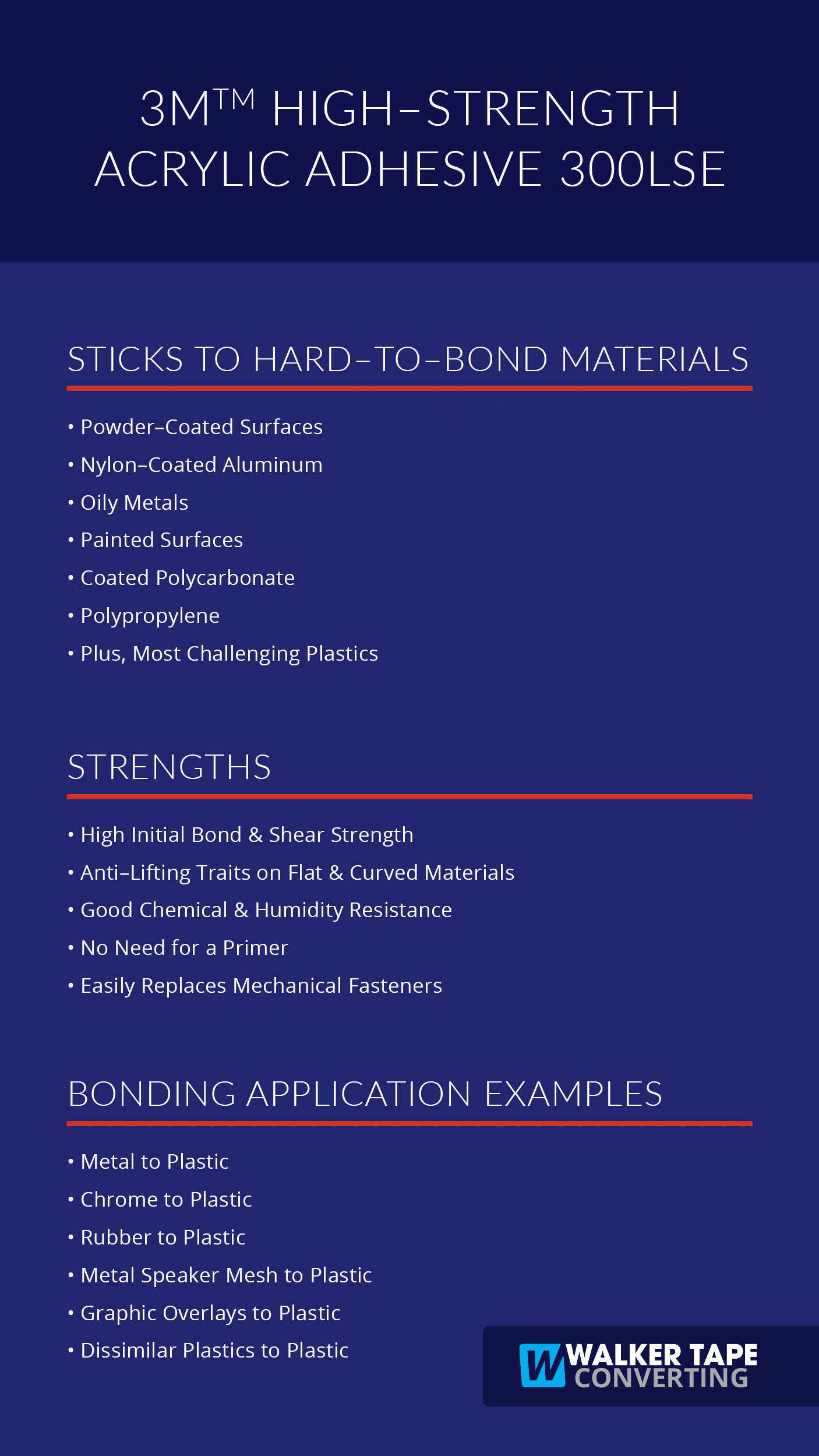 Ask one of our experts today if 3M's leading adhesive for LSE and challenging surfaces is right for you!