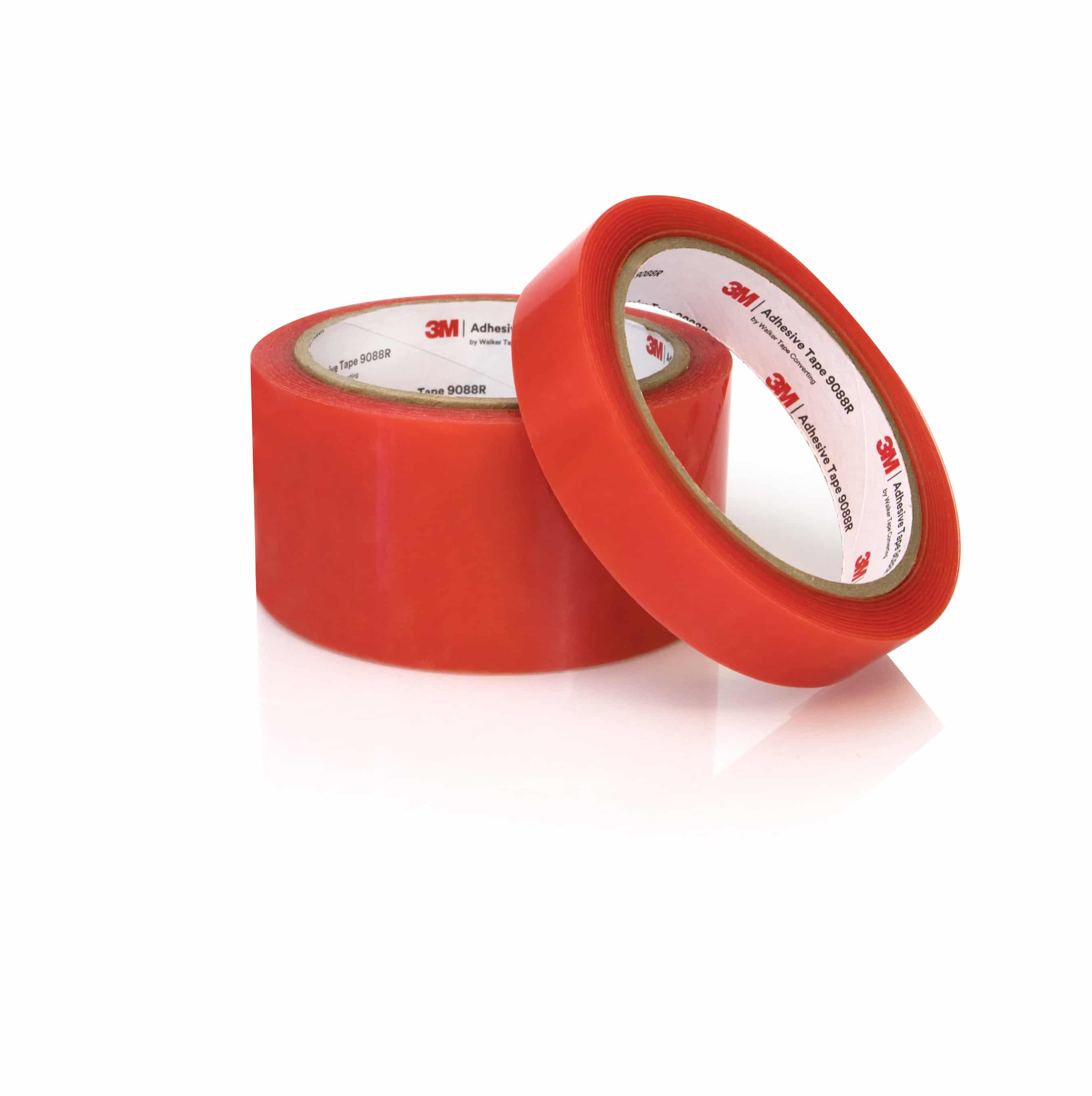 3M™ Adhesive Tape 9088R by Walker Tape Converting features a modified acrylic adhesive on a polyester (PET) carrier. It's a go-to, general-purpose, double-sided tape. Its high-performance benefits often make 9088R the ideal choice for a wide range of applications:
Strong, permanent bond to most any substrate, including smooth or rough high surface energy (HSE) & hard-to-stick-to, low surface energy (LSE) materials

Reliable resistance to UV, chemicals, & temperatures from -10°F to 300°F

Lay-flat adhesive for smooth, consistent surfaces

Powerful peel & shear strength

Solventless, low-odor formula

Excellent invisibility

Strong initial tack
Plus, its red polypropylene (MOPP) film liner saves you time and money:
Faster production rates

More converting cost savings

More resilient to damage

Higher ROIs
Available Exclusively from Walker Tape Converting
Please contact our customer service department for an SDS sheet.
Blind manufacturing

Fabric and leather stitching

Home Decoration

Indoor/Outdoor Signs

Light Boxes

Metal Fabrication

Mounting in Electronics

Mounting in Furniture

Mounting in Plastics

Paper Bonding & Packaging

POP/POS displays

Print finishing

Sealing profiles and cable ducts

Splicing & Bonding

Sports Equipment
Adhesive: 3M™ 375 High Performance Acrylic

Adhesive Thickness: 3.7 mils

Carrier: PET

Carrier Thickness: 0.5 mils

Total Thickness w/o Liner:  7.9 mils

Liner: MOPP film

Liner Thickness: 3.2

Liner Color: Red

Tape Color: Clear

Surfaces: Both HSE & LSE

Humidity Resistance: Yes

UV Resistance: Yes

Chemical Resistance: Yes

Long-Term High Temperature Resistance: 194°F

Temperature Use Range: -10°F to 300°F