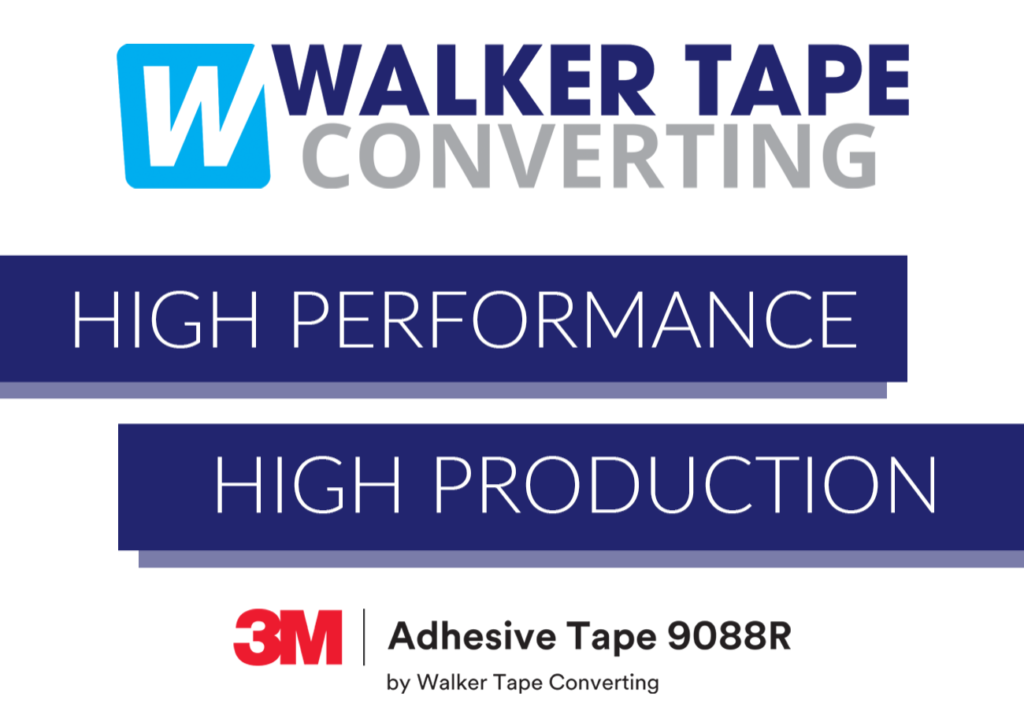 High Performance, High Production:
The Best Value for a General-Purpose, Double-Sided Tape on a Red Film Liner
Today, we're thrilled to introduce 3M™ Adhesive Tape 9088R by Walker Tape Converting. It's the roll to reach for when you need a general-purpose, double-sided tape. It offers serious high performance without the high price tag. In fact, compared to other competing tapes, our 3M™ Adhesive Tape 9088R is your most affordable option on the market.  
Like the name suggests, it's the result of an exclusive collaboration with 3M. 
Incredible Performance Benefits
When we tested our 3M™ Adhesive Tape 9088R, we knew we had something special. Even with all our experience testing new products, we were shocked by the results. Here's the story of just one of our tests.
Testing
3M™ Adhesive Tape 9088R by Walker Tape Converting
We placed some of the tape on a piece of plastic (polycarbonate). Then we pressed another piece of plastic on top so the two pieces overlapped each other where they were now bonded. Time for the feat of strength: two of us tried as hard as we could to pull the pieces of plastic apart. Nothing budged! 
We tried it again, timing how long it took between applying the tape and trying to rip apart the plastic pieces. It was less than a minute from when we applied the tape, and we still couldn't pull the bonded pieces apart. 
What We Mean When We Say High Initial Tack and Shear Strength
What makes this so exciting is that tape requires time to build up its full bond strength. For example, after about 20 minutes, a tape is at 50% of its potential strength. After only one minute like in our test? You're looking at approximately 40% of its full strength. 
If we can't even pull 3M™ Adhesive Tape 9088R apart at only 40% of its full strength, imagine how strong its hold is once it reaches 100%. 
This is what we mean when we say it has high initial tack. Right away, it's instantly strong enough for most any application you could need it for. 
Also, this tug-o-war style of test reveals the tape's shear strength. Shear strength is a tape's ability to bear a load. For example, if you use tape to hang a sign on a wall, gravity pulls that sign downward. Our 3M™ Adhesive Tape 9088R can, at only 40% strength, bear the load of our constant pulling. 
This test, and more measured tests in 3M labs, illustrate what we mean when we say it has high shear strength. It also shows why 3M™ Adhesive Tape 9088R is a great choice to go with in the signage industry. Its high shear strength, plus its resistance to UV and chemicals and high temperatures, make it work great for both indoor and outdoor sign applications.
Want to see if you and your coworkers are stronger than 3M™ Adhesive Tape 9088R? Ask us to send you a sample today. (If you record it, we'd love to see the video.)
Fantastic Production Benefits
Unrivaled Lead Times
3M™ Adhesive Tape 9088R by Walker Tape Converting also comes with several benefits to specifically improve your production process. 
First off, we offer faster lead times than competing options. We make 3M™ Adhesive Tape 9088R right here in the USA and offer these bold shipping guarantees:
Orders under $3,000 leave our hands in one business day, or we pay shipping.

Orders of $3,000 or more leave our hands in five business days at the most, or we pay shipping. 
(Considering the current health crisis, we've temporarily paused our shipping guarantees for the safety of our team members and customers.)
Because of the expertise of our amazing team, we get quotes back to you quickly. Where some competitors take weeks, we get back to you in days. Most often, we can have a quote ready for you within a business day.
Looking for a custom order? We can have it ready for you faster than any other competitor in the industry.
Converting Cost Savings
Our 3M™ Adhesive Tape 9088R comes on a red film liner that improves your production rates in a handful of ways. It's easy for die-cut projects, even able to achieve twice the output on rotary machines. Plus, its adhesive also lays flat for smooth, consistent coverage. 
These traits give you faster production with fewer failures. So, you can count on saving money on labor, cleanup, and price-per-piece fees. On top of that, the red film liner tends to be more resilient to damage that can occur during transit, production, and exposure to humidity. 
All of these benefits end up boosting your ROI and saving your business time and money.
Healthier, Happier Work Environment
Since it improves the production process, your production team gets to worry less and celebrate their wins more. Also, 3M™ Adhesive Tape 9088R by Walker Tape Converting uses a low-odor adhesive that's made with a solventless process. So, using this tape exposes your team to far fewer chemicals and promotes a healthier working environment.
All for the Best Value
We've been able to make this high-quality tape so affordable thanks to our unique range of capabilities. Our history with tape innovations goes back decades, and it's our passion to find tape solutions that actually help your business. 
To learn more about all of the features this tape offers, check out our product page. From this same page, you can send us a free quote request to compare prices with competing brands.